Britain, Germany, and France have jointly called for a United Nations-led conference on Afghanistan to develop a plan for transferring more security responsibilities to the Afghan authorities.
German Chancellor Angela Merkel and British Prime Minister Gordon Brown announced the initiative at a news conference in Berlin on September 6, saying they were launching it together with French President Nicolas Sarkozy.
After the United States, the three countries are the largest troop contributors to the war effort in Afghanistan. Together, they have about 17,000 troops serving in the NATO-led International Security Assistance Force in Afghanistan.
And all three countries face pressure from unhappy voters at home, who are increasingly questioning the effectiveness of the eight-year fight against the Taliban.
Meanwhile, reports of voting irregularities continue to pile up in Afghanistan, casting a shadow over the still-untallied presidential election.
Domestic Pressures
Germany's Merkel said Europe wanted Afghans to realize they would soon have to take charge of their country.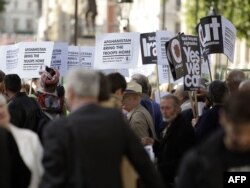 Increasing casualties in Afghanistan have become a domestic issues in Britain and other countries.
"Our plan is to prepare the Afghan government, over the coming transition period, to take on an increasing number of responsibilities itself. We will help with training and civilian reconstruction, but the goal is not to lose sight of a sustainable security structure in Afghanistan," Merkel said.
"We must move forward decisively on this, and as the Afghans take on more responsibility for their security, then the international engagement can be reduced."
Merkel's appeal comes as she leads her party into general elections later this month, with polls indicating that two-thirds of Germans oppose their country's participation in the Afghan mission.
Brown, whose country has 9,000 troops in the insurgency-plagued south of Afghanistan, also faces growing opposition by the British public to the war effort.
He said the conference should be organized within the next few weeks to tackle the key issues facing Afghanistan.
"The international conference, the high-level conference that we propose on Afghanistan, is one that should meet before the end of the year, Brown said. "It should deal with the issues of security, governance, and development."
Merkel and Brown said the proposed conference would bring together the new Afghan government that emerges from the recent elections, the United Nations, NATO, and countries that have contributed to the NATO mission.
The United States and Afghanistan have so far not reacted to the European proposal.
Will Elections Produce Viable Government?
But on the ground in Afghanistan, the emergence of a viable government is increasingly in doubt, posing hard questions to Western policymakers.
Although incumbent Hamid Karzai is leading in the recount so far, his potential reelection as president has been marred by allegations of widespread fraud that will not go away.
On September 6, Daud Ali Najafi, a senior official on the Independent Election Commission, said it had annulled results from 447 of about 28,000 polling stations after investigating fraud complaints.
A huge electoral billboard of incumbent President Hamid Karzai in Kabul
"We had sufficient evidence of fraud at some polling stations. We have annulled the results of those polling stations," Najafi said. "This evidence was provided to us based on the investigations of our teams on the ground."
Experts suggest that arriving at a model where rival political factions agree to share power might not work in Afghanistan because Karzai's leading opponents have already publicly refused such a compromise.
Karzai's government is also apparently not keen on any foreign-sponsored compromises. Speaking to RFE/RL's Radio Free Afghanistan, Foreign Ministry spokesman Ahmad Zahir Faqiri rejected outside interference.
"The elections are a domestic Afghan issue. We have a specific mechanism for conducting elections under the Independent Election Commission and the Electoral Complaints Commission. And they need to accomplish their tasks," Faqiri said.
"We will not allow anybody to debate our domestic issues abroad. This is unacceptable."
In an interview with the leading French newspaper "Le Figaro," President Karzai lashed out at critical reports in foreign media about the Afghan election process. "If this manipulation of the media aims to install a puppet government, it will not work," he warned.
Karzai said that previous attempts by the British and Soviet empires to install puppet regimes in Kabul had failed. "I hope the Americans will not try the same thing, because they would face the same fate!"
While Western debates about Afghanistan's future still mainly center on military issues, resolving the brewing political crisis is expected to test Western policymakers in the coming days and weeks.