Russian and NATO envoys are pressing their cases on opposing sides of Russian-imposed buffer zones around breakaway republics in Georgia, where the West has been playing catch-up since Russian forces routed their Georgian counterparts in five days of intense fighting in early August.
Russian Foreign Minister Sergei Lavrov is in South Ossetia after kicking off a two-day visit in Abkhazia on September 14 to signal Moscow's determination to follow through on its recent recognition of those separatist republics.
At the start of his trip, Lavrov issued a stinging rebuke of NATO Secretary-General Jaap de Hoop Scheffer, who last week cited "fundamental differences" with Moscow and called Russia's show of force in Georgia "inappropriate" and its recognition of South Ossetia and Abkhazia unwise.
Two gatherings of European and other Western representatives are aimed at countering Moscow's message and further showing Western support for Georgia.
In Georgia proper, de Hoop Scheffer and ambassadors from all 26 NATO member states are in the Georgian capital to demonstrate their resolve to loosen Russia's grip on its tiny neighbor.
Greater Significance
The Tbilisi meeting was scheduled ahead of Russia's war with Georgia, but it has taken on greater significance as a result of Moscow's first invasion of a neighboring country since the breakup of the Soviet Union.
The agenda was amended to include the inaugural session of a NATO-Georgia Commission to oversee Tbilisi's membership bid. The commission is a response to the recent hostilities that members hope will send a message to Moscow while allowing them to avoid internal disagreement over further NATO expansion.
As he met de Hoop Scheffer, Georgian President Mikheil Saakashvili called for the acceleration of Georgia's integration into NATO. But the NATO chief made no mention of whether Georgia will be given a Membership Action Plan -- a roadmap for accession -- when NATO meets for a summit in December.
"Despite the crisis, despite the very difficult political situation Georgia is facing today, NATO ambassadors and I have come to support Georgia," de Hoop Scheffer said, "to show Georgia that we are interested in its ambition for Euro-Atlantic integration."
Meanwhile, in Brussels, EU foreign ministers approved the deployment of up to 200 cease-fire observers to Georgia. The monitors are to be placed in the "buffer zones" which Russia established around the breakaway regions of Abkhazia and South Ossetia.
Going into the meeting, EU foreign policy chief Javier Solana had made a last public appeal for approval of the deployment this way.
"The first commitment is to deploy, before the beginning of the month of October, a number of observers, the 200 observers in order to get the complete withdrawal from that part [of Georgia] of the Russian force," Solana said.
But if the foreign ministers gave Solana the green light he wanted, they stopped short of taking any decision on whether the monitors might eventually also be deployed inside the breakaway regions themselves.
Strong Signal
Any such decision, the ministers said, would have to await a later stage. Russia has rejected any suggestion that the monitors could be allowed inside Abkhazia and South Ossetia.
The EU approval of the observers' deployment is intended as a strong signal to Moscow of Western support for Tbilisi in the wake of the Russian-Georgian war.
And that was also the message that de Hoop Scheffer took to Tbilisi for a meeting of the NATO-Georgia Commission.
"NATO's position has been clear from the outset," he said. "Russia's use of force was disproportional and Russia must now comply with all elements of the six-point plan brokered by French President Sarkozy in his quality as presidency of European Union, including the implementation agreements worked out last week."
In response, Georgian President Mikheil Saakashvili welcomed the NATO chief this way: "Your presence sends a powerful message to our people and a signal to the world that Georgia, together with its friends and allies, does not stand alone," he said.
But if all this seemed to echo events in Brussels, there are in fact deep differences not only in how different Western states approach the Georgia crisis but also between how the EU and NATO regard it.
'Not Acceptable'
Ahead of the NATO-Georgia Commission meeting, de Hoop Scheffer sharply criticized the EU in a newspaper interview for not insisting Russian soldiers return fully to their pre-conflict positions. He said, "The option of keeping Russian forces in South Ossetia and Abkhazia is not acceptable."
Moscow has said it intends to keep 7,600 of its troops in South Ossetia and Abkhazia – more than twice pre-conflict levels.
De Hoop Scheffer also said Russia's plan for a military presence was "very difficult to swallow."
Amid the continuing negative Western reaction to Russia's invasion of Georgia, Moscow shows no signs of changing policy. In recent days, the Kremlin has only moved further ahead with providing guarantees for the independence of the two Georgian separatist regions.
Russian President Dmitry Medvedev said he will sign agreements this week establishing diplomatic relations with South Ossetia and Abkhazia. He said that the relations would contain a "military component."
Speaking at a meeting with South Ossetian leader Eduard Kokoity and other South Ossetian officials in Tskhinvali, Lavrov said that Moscow would insist that the breakaway republic has a voice in the Organization for Security and Cooperation in Europe (OSCE).
"Russia is a member of the OSCE, and in that capacity we guarantee that no question regarding South Ossetia will be considered in the OSCE without representatives of Tskhinvali," he said.
The OSCE is mandated to deploy and operate the international monitoring force.
Meanwhile, the EU External Relations Commissioner Benita Ferrero-Waldner said in Brussels today that the European Commission will provide Georgia with up to 500 million euros ($700 million) to aid its recovery.
with additional news agency reporting
Crisis In Georgia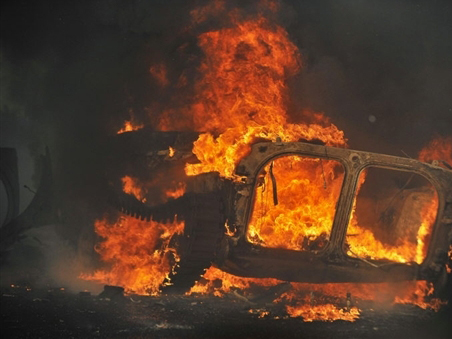 For RFE/RL's full coverage of the conflict that began in Georgia's breakway region of South Ossetia,
click here
.