There is something in the air in Athens. Intangible, but growing. It's hope, that Greece's European Union partners will come to the rescue of that financially stricken country.
Although nothing has been announced, there's a dramatic rise in consultations among Greek leaders and people who would play a key part in any lifeline for Greece, which has $400 billion in debts. It currently has a public deficit of nearly 13 percent and a total debt equal to 113 percent of gross domestic product (GDP) -- compared with EU norms of 3 percent and 60 percent, respectively.
Greek Prime Minister George Papandreou meets the central figure in this drama, German Chancellor Angela Merkel, on March 5. Merkel has up until now publicly opposed a bailout for Greece, and it cannot go forward without her backing. The Greeks must be hoping she will finally soften her stand at the Berlin meeting.
The head of Deutsche Bank, Josef Ackermann, has already talked with Papandreou in Athens. That's significant because German banks would play a central role in a rescue operation.
Politically Unpopular
The EU's finance and monetary commissioner, Olli Rehn, has likewise been in Athens. He has urged the Greek government to help itself by tightening still further its domestic austerity program. That's to help smooth the path for Merkel to join the rescue package, a politically unpopular move among German voters wary of the cost.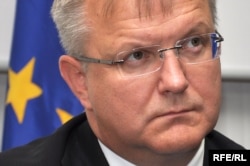 Olli Rehn
"Given that risks related to macroeconomic and market developments are materializing, additional consolidation measures are necessary to ensure that the 4 percent target of deficit reduction for this year -- 2010 -- is met," Rehn said at a joint press conference with Greek Finance Minister George Papaconstantinou on March 1. "I want to encourage the Greek authorities to consider and announce additional measures in the coming days to meet this target."
The risks Rehn is referring to relate to the common currency the euro, which has come under pressure on international money markets for fear that Greece's problems could trigger a wider crisis in the EU.
Merkel, in comments on German public television, said the Greek crisis has placed the euro currency in its most difficult position since it was created. She said it's now up to Greece to get to the roots of its problem, for the common good.
"And at the roots are the high Greek deficits and lost credibility," she said. "That's why I'm very grateful that the Greek government is planning very courageous savings measures and other measures to improve the deficit situation."
In his comments, Rehn also expressed the EU's solidarity with the Greek people -- a largely meaningless gesture unless it is backed by some concrete resources.
"The [European] Commission, and I trust I can speak for the whole European Union, we will continue to support the Greek authorities and the Greek people in the spirit of cooperation in order to put the Greek economy back on a sustainable path which is to the benefit of the Greek people," he said.
'Honor And Pride'
Papandreou insists that his country is not looking for handouts, telling his parliament that it's a matter of "honor and pride" that Greece should put its own house in order. But chiding the EU's reluctance so far to concretely help Greece, he said that a community built on "a dream of unity" must be able to rise above narrow national interests.
Media reports say the EU action plan now taking shape behind the scenes involves the purchase of Greek government bonds by German, French, and possibly Dutch banks. These bonds would be backed by guarantees offered by the governments of the participating countries, so that the purchasing banks would not suffer losses in the event of a Greek default.
Selling a new bond issue directly to large institutional customers at an amenable interest rate would be distinctly advantageous for Greece.
The alternative is to face the capital markets' "auction," where buyers would demand the Greeks offer them prohibitively high interest rates in order to offset the risk of a default.
This idea of bond purchase backed by official guarantees is attractive to EU governments in that no expenditure from state coffers is needed unless Athens defaults -- and that possibility would be reduced through a successful bond issue.
A bond issue would in the first instance provide means for Greece to make billions of dollars in debt repayments due this month and in April. Analysts estimate that at present Athens does not have the resources to pay those installments.