TBILISI (Reuters) -- The head of the European Union's monitoring mission to Georgia has said it would be unrealistic to expect Russian forces to grant the monitors access to breakaway South Ossetia in the near future.
German diplomat Hansjoerg Haber told Reuters the cease-fire monitors would try to deal with the South Ossetian police to make the de facto border more "porous" for trade and to mediate between police on either side.
But Russia's recognition of Georgia's two breakaway regions means "we will in all probability not be given access to patrol South Ossetia and Abkhazia," he said.
"We are a civilian, unarmed observer mission and we can only go where we are allowed to go," Haber, 55, said in an interview at the mission's Tbilisi headquarters, a hillside villa once home to Stalin's ruthless secret police chief, Lavrenty Beria. "... we do not expect to be allowed to go there soon.
"The hope -- but this is still more a vague idea than a precise operational plan -- is to use the necessities on the ground to make the frontier a bit porous, with law enforcement authorities on both sides cooperating."
The more than 200 monitors began patrolling on October 1, gaining limited access to a Russian-controlled buffer zone adjacent to South Ossetia.
It is part of a French-brokered cease-fire deal that should see the withdrawal by October 10 of Russian forces from two "security zones" in undisputed Georgian territory, created after the five-day war between Russia and Georgia last month.
Haber's comments are likely to disappoint the Georgian authorities, who insist the EU stick to a mandate that the bloc says allows it to patrol the whole of Georgia, including the rebel regions recognised by Russia.
'Somewhere In Between'
Skirmishes between separatists and Georgian troops erupted in war in August when Georgia's army tried to retake South Ossetia, which threw off Tbilisi's rule in 1991-92.
Russia responded with a powerful counterstrike that drove the Georgian Army out of South Ossetia. Its forces then pushed further into Georgia, saying they needed to prevent further Georgian attacks.
The West, its relations with Moscow hitting a new low, has condemned Russia for a "disproportionate response" to Georgia's actions and demanded that Russian troops quit the buffer zones.
Russa plans to keep some 7,600 troops in South Ossetia and Abkhazia and says there is no need for EU monitors to go there.
Haber, who served in the German Embassy in Moscow in 1999-2002, said the Russian military had indicated which checkpoints they would remove and in what order, "but we don't have the timeline yet."
The mission is expected to coordinate the simultaneous return of Georgian police to the area, in some parts of which human rights groups say paramilitaries have been looting and attacking ethnic Georgian villages, forcing thousands to flee.
'Only A Partial Idea'
"We have only a partial idea of exactly how the retreat will take place," Haber said, "the difficulty being that if they remove a checkpoint at the first line, we will then be able to go all the way from the relatively harmless first layer up to the administrative border, where conditions are difficult.
"The Russians will evidently want to have a certain distance between themselves retreating and the Georgians following, so we will probably be somewhere in between," he said.
Haber said there was some unease on the Russian side about the type of Georgian police that will deploy in the area and concern about some heavily armed special police units.
The Georgian Interior Ministry has assured him the police will be "more or less normally armed," he said, but added that "... in securing law and order in the adjacent area we can't just rely on the solitary policeman with his side weapon."
Crisis In Georgia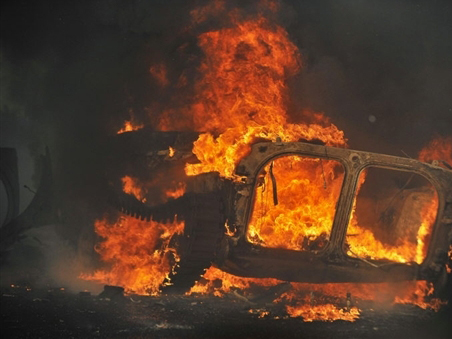 For RFE/RL's full coverage of the conflict that began in Georgia's breakway region of South Ossetia,
click here
.