MOSCOW/KYIV (Reuters) -- Europe is looking for a swift restoration of gas supplies, after striking a deal with Moscow on monitoring gas shipments via Ukraine that have been halted by a rancorous pricing dispute with Kyiv.
Diplomats in Prague said the European Union would send monitors to Ukraine on January 9 to be deployed at the main metering stations for gas arriving from Russia.
The Czech EU Presidency said in a statement late on January 8 that the monitors agreement "should lead to the Russian supplies of gas to EU member states being restored." Czech officials, however, declined to give any details of the deal.
The apparent breakthrough came after talks between Czech Prime Minister Mirek Topolanek, German Chancellor Angela Merkel, and Russian Prime Minister Vladimir Putin.
Nevertheless, Russia and Ukraine have yet to agree a price for Russian gas deliveries, subsidized since Soviet times, and Putin on January 8 again demanded Kyiv pay the going market rate.
The nine-day gas crisis has left hundreds of thousands of people in the Balkans without gas, forced factories to shut down and disrupted deliveries as far west as France and Germany, even as the continent faced freezing mid-winter temperatures.
The dispute between Kyiv and its former Soviet master in Moscow also follows tensions over Ukraine's efforts to join NATO, a move bitterly opposed by Moscow and viewed with wariness even by European members of the alliance and by investors.
In typically forthright comments to Western reporters at his residence outside Moscow, Putin blamed the gas crisis in part on a "collapse" of the authorities in Kyiv and high-level corruption in Ukraine.
Damaging Row
"In order to restore normal flows, [Ukraine] needs to come to Moscow and sign a contract for gas supplies to Ukraine," he said. "And they need to pay for the product they receive. At the market price...our Ukrainian partners don't want to sign and don't want to pay. That's it."
Ukraine has been beset for months by political squabbling between President Viktor Yushchenko and his former ally, Prime Minister Yulia Tymoshenko, notably over ties with Russia.
Russia cut off gas for Ukraine's domestic consumption on January 1 in a row over pricing and debts, a dispute Putin said was now damaging Russia's image.
Officials from both sides met EU officials in Brussels where the 27-nation bloc sought an end to the spat, which has highlighted its vulnerability to energy supply disruptions.
The European Union receives one-quarter of its gas supplies from Russia, 80 percent of which pass through Ukraine.
Supplies to 18 countries have been disrupted by the dragging dispute.
The Briefing: Gas Crisis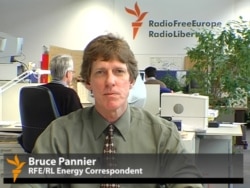 The Briefing
RFE/RL energy correspondent Bruce Pannier discusses the gas feud between Russia and Ukraine. Play
Factbox: Russian Gas Export Pipelines, Projects

A factbox on how gas gets to Europe from Russia and some of the new pipeline projects aimed at bringing more Russian gas to Europe and diversifying supplies. More