EU Launches Legal Action Against France On Roma Expulsions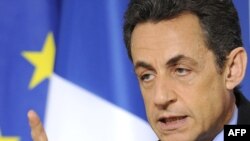 BRUSSELS -- The European Commission has stepped up its pressure on France to rethink its policy of deporting illegal Roma.

Speaking after a commission meeting in Brussels, EU Justice Commissioner Viviane Reding said a decision had been taken to pursue what is known as an "infringement procedure" against France for failures in applying EU law.

"The commission today decided to open infringement procedures against France," Reding said. "You know that the commission is the guardian of the treaty and it has to make sure that the European law is applied in the national law and in the practice of such."

In a statement, the European Commission said France has failed to carry out the EU's Free Movement Directive in a sufficiently "effective or transparent" manner. The ruling is in reference to France's decision to forcibly deport more than 1,000 Romanian and Bulgarian Roma -- all of them EU citizens -- in August and September. All EU citizens enjoy generous rights and safeguards when traveling within the bloc.

Paris was given a warning letter and a deadline of October 15 to present Brussels with a timeline for bringing its laws into line with the EU directive. Continued non-compliance could lead to a second warning, which -- if it goes unheeded -- could lead to the commission imposing financial penalties on France.

In an indication that problems with the free movement directive might be widespread, commission officials said other EU member states could find themselves in receipt of similar warnings over the coming months.

The decision came on the same day as the commission announced the creation of an EU task force to take a broader look at Europe's treatment of the bloc's estimated 10-12 million Roma.

In its action, the commission stopped short of accusing France of targeting the Roma as an ethnic group, which would have been a potentially far graver infraction.

In early August, the French government issued a memo to law enforcement that encouraged authorities to seek out Roma camps in its campaign against illegal settlements.

Senior French political figures have disowned the circular and said it was withdrawn in early September.

Commission spokeswoman Pia Ahrenkilde Hansen noted France's swift retraction of the order.

"The commission has taken note of the assurances given by France at the highest political level on September 22, 2010, to the effect that the measures taken since the summer have not had as their objective or effect the targeting of a specific ethnic minority," she said.

The commission's decision to apply the lesser charge was interpreted as a victory by Paris, which issued a statement saying that France is "not currently engaged" in any activities contravening EU law.

Earlier this month, France's heavy-handed expulsions of Roma prompted sharp criticism from EU Justice Commissioner Reding, who compared the action to French behavior toward Jews in World War II.

The president of the European Commission, Jose Manuel Barroso, also spoke of the "ghosts of Europe's past," in an apparent similar reference.

The comments provoked an angry response from French President Nicolas Sarkozy, who had a heated exchange with Barroso at an EU summit on September 16.