BRUSSELS -- European Commission Vice President Viviane Reding was unusually candid for an EU official when she told the European Parliament's plenary that France needed "assistance" to make sure its ongoing expulsions of mainly Romanian and Bulgarian Roma are following EU laws.
"The commission services have identified a number of issues where the French authorities will need to give supplementary information and where they will need active assistance by the commission services to ensure that their [actions], now and in the future, [are] fully in line with EU law," the EU's justice commissioner said.
France's expulsion of more than 8,000 Romanian and Bulgarian Roma thus far this year has led to an international outcry. Media across Europe have interpreted the measures as the latest examples of discrimination against and persecution of the continent's largest stateless minority. The number of Roma in Europe is estimated at 10 million to 12 million.
While Reding stopped short of taking France to task for specific violations, she made clear that the country's expulsions violated the EU's "principle of proportionality."
EU laws guarantee all EU citizens the right of free movement within the bloc. Reding said France needed help in "fully implementing" the procedural safeguards contained in the legislation, which allows people who threaten public order or security to be deported as long as each case is individually and thoroughly argued by authorities of the member state doing the deporting.
But there must be no "collective punishment," Reding said, and no EU citizen must be targeted or stigmatized because of their ethnic origins.
Integrating The Roma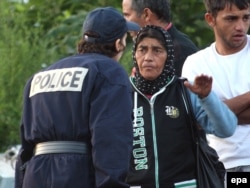 A woman talks to a police officer as Romanian Roma evacuate an illegal squat in St. Martin d'Heres last month.
Speaking in Paris on September 6 after meeting with European colleagues, French Immigration Minister Eric Besson insisted his country had not broken any laws.
"We scrupulously respected EU law, scrupulously respected French law," Besson said, "and we scrupulously respected our republican principles: firmness and humanity."
France maintains it only carries out "voluntary deportations," reportedly paying each adult deportee 300 euros ($381) and children 100 euros.
France has also accused Romania and Bulgaria -- the countries of origin of some 150,000 of the Roma who have immigrated to France -- for not doing enough to integrate its minorities. This point is hotly disputed by the governments of both countries.
Commissioner Reding said all EU member states were obliged to provide all of their citizens with adequate housing, health care, education, and employment opportunities.
She also noted that an EU meeting in Spain earlier this summer on policies aimed at integrating the Roma better in the bloc's member states only managed to attract three government ministers.