BRUSSELS -- In an emotionally charged address to journalists in Brussels, EU Justice Commissioner Viviane Reding has raised the stakes in a standoff between Brussels and Paris over France's recent expulsion of over 1,000 Roma.
Reacting to revelations over the weekend suggesting the French government had officially targeted illegal Romany camps for closure and clearance while assuring the world that was not the case, Reding called Paris' actions a "disgrace."
"I personally have been appalled by a situation which gave the impression that people are being removed from a member state of the European Union just because they belong to a certain ethnic minority," Reding said. "This is a situation I had thought Europe would not have to witness again after the Second World War."
Reding said the French expulsions of the Roma call "gravely into question...the common values and the law of our European Union."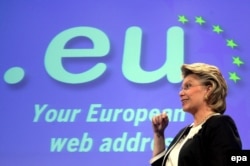 EU Justice Commissioner Viviane Reding
She said she is "personally convinced that the commission has no choice but [to] initiate infringement procedures against France" for the allegedly discriminatory and deficient application of the EU's 2004 Free Movement Directive.
Reding said the procedure would be launched by the European Commission within two weeks and "fast-tracked."
"There is no time to lose," Reding said.
The commissioner did not specify, however, what sanctions the proceedings could trigger.
Reacting to the comments, French EU Affairs Minister Pierre Lellouche on September 15 called Reding's wartime comparison a "blunder," while her colleague on the European Commission, market regulation commissioner Michel Barnier of France said "needless polemics" should be avoided. A government spokesman, Luc Chatel, called Reding's remarks "unacceptable."


'Specifically Roma'
It emerged over the weekend that an official circular was issued by the French Interior Ministry, dated August 5, instructing law enforcement officers to break up hundreds of illegal campsites, "specifically those of the Roma."
Under EU law it is illegal to target a group on the basis of nationality, race, or ethnic origin. The issue is particularly sensitive in Europe as a result of the genocidal policies of Nazi Germany directed, among others, against the Roma.
Reding said the circular explicitly contradicts assurances given two weeks ago by French Immigration Minister Eric Besson and Europe Minister Pierre Lellouche, both of whom had assured her in Brussels that all repatriations are conducted on a case-by-case basis.
"I can only express my deepest regrets that the political assurances given by two French ministers officially mandated to discuss this matter with the European Commission are now openly contradicted by an administrative circular issued by the same government," Reding said.
The EU commissioner acknowledged that Paris, jolted into action, has now hurriedly issued a new circular, eliminating the reference to the Roma. But, she said, "it is important that not only words but the behavior changes."
"Enough is enough," Reding said. "No member state can expect special treatment when values are at stake."
It remains unclear if the European Commission will follow Reding's lead. If it does, it could find itself on the warpath against one of the EU's largest member states, which political observers say would be hard to imagine.