RFE/RL's Kyrgyz Service reports that rescue and relief efforts are being hampered by the mountainous location, near the country's border with China. With no reliable roads, helicopters are the only means of reaching the disaster scene.
President Kurmanbek Bakiev is due to visit the area to see the damage for himself.
We were going to sleep. Suddenly, it was like a nightmare when the earthquake hit us.
The nearest modern medical facilities are more than 70 kilometers from the area. The regional hub of Osh, where better facilities are available, is 250 kilometers from the disaster zone.
"We have sent four vehicles, 27 rescue personnel, 100 heaters, 20 winter tents, 600 liters of mineral water, and warm clothes to the village of Nura," hardest hit by the quake, said Kylych Dosumbetov, a spokesman for Kyrgyzstan's Emergency Situations Ministry. "All these measures were taken immediately after we learned about the earthquake."
Emergency Situations Minister Kamchybek Tashiev said at least 60 residents of Nura are dead and some 100 others seriously injured.
She said her daughter was severely injured in the earthquake and was taken to Sary-Tash, a neighboring village, for treatment.

Buried Alive
Akaev reports that Osh regional Governor Aaly Karashev and Kyrgyz Emergency Situations Minister Kamchybek Tashiev are in Nura, where rescue personnel are still discovering people buried alive in the ruins.
Dozens of people are huddled together around campfires built near their ruined houses in an effort to keep warm.
Akaev, surveying the devastation in Nura, says it is a miracle that anyone survived. He reports that most of the 74 people killed in Nura were either elderly or children. He said 34 of the dead in Nura are under the age of 7. Many of the Nura residents who survived, Akaev reports, were working in a newly built school facility helping to count votes from the October 5 local elections when the quake struck.
Baktygul, a village doctor, says there were three quakes, the first being the most severe. She says much of the initial emergency assistance was provided by those residents who survived in the school building.
"They managed to rush to the closest houses, rescuing some people," Baktygul says. "The emergency help was late for those who lived in houses far from them. There are more dead than injured [in Nura]."
RFE/RL Kyrgyz Service correspondent Alisher Toksonbaev is also in Nura.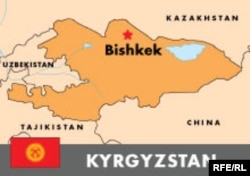 "It is known that about 120 out of 700 houses [in the village of Nura] were destroyed," Toksonbaev said. "About 100 pairs of shoes, about 300 pieces of clothing for children, 200 blankets, and about 50 tents have been delivered. Now, we have seen Red Crescent Society staffers come to assist. They also have delivered their own things."
The U.S. Geological Survey reported two quakes in southern Kyrgyzstan, the first late on October 5, the second early on October 6.
The Geological Survey said the quakes measured 6.6 and 5.1 in magnitude, respectively, and hit in the same area -- around 60 kilometers east of Sary-Tash, Kyrgyzstan, and 50 kilometers east of Karakul, Tajikistan.
'Any Assistance Needed'
An official with Kazakhstan's Emergency Situations Ministry, Eldar Raimbekov, told RFE/RL's Kazakh Service that preparations are in motion to help Kyrgyzstan, which had called for international assistance after another large quake struck in January.
"At a recent meeting of the Collective Security Treaty Organization in Kyrgyzstan, [CSTO] emergency situations ministers discussed providing assistance [to one another] in emergency situations," Raimbekov said. "And, of course, our rescue workers and emergency medical staff will travel to the earthquake-struck area and provide any assistance that is needed."
"According to the agreement on emergency situations signed by CSTO member countries, we will directly help those people of Kyrgyzstan who are suffering," Muzaffar Usmonov, a spokesman for Tajikistan's Emergency Committee, told RFE/RL's Tajik Service. "At this moment, the Tajik Emergency Committee is discussing the situation in Kyrgyzstan and appointing people who will be responsible for aid. We will give as much as we can."
Turkmen Quake Anniversary
Earthquakes are common in Central Asia, but few result in serious damage. Some, however, are devastating.
Turkmenistan is marking the 60th anniversary of an earthquake that leveled the capital, Ashgabat, and killed some 176,000 people, 80 percent of the Turkmen capital's population.
A strong earthquake also hit central Afghanistan on October 6.
The U.S. Geological Survey said the tremblor had a magnitude of 5.9 and hit about 70 kilometers south of Kabul, around 3:30 a.m. local time. There were no immediate reports of casualties or damage.