The International Court of Justice's (ICJ) ruling that Kosovo's unilateral declaration of independence from Serbia was legal is of direct interest to other countries with secession crises or frozen conflicts.
The ICJ has said its ruling approving Kosovo's declaration of independence is unique to Kosovo.
That essentially means the justices do not want it to stand as a precedent for the world's many other places where regions have seceded or want to secede from their home countries.
But as the instant reaction of many governments to the July 22 decision makes clear, the court's ruling is being regarded -- rightly or wrongly -- in more universal terms. And nowhere more so than by parties involved in secession crises or frozen conflicts themselves.
'Guidance' For Bosnia's Serbs
Among the first to react to the court's ruling affirming Kosovo's 2008 unilateral declaration of independence from Serbia was the leader of Bosnia-Herzegovina's Serbian entity, the Republika Srpska.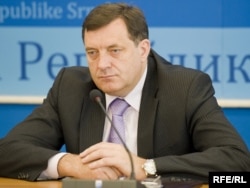 Bosnian Serb leader Milorad Dodik (file photo)
Prime Minister Milorad Dodik suggested that if Kosovo's secession from Serbia did not violate international law, then the same standard should be applied to the Bosnian Serb entity's long-standing desire to leave Bosnia.
"For a long time, we in the Republika Srpska have not been happy in Bosnia-Herzegovina," Dodik told reporters in Banja Luka late on July 22.
"We respect the Dayton agreement [that ended the war in Bosnia], but the ICJ decision can serve us as guidance for our continuing fight over our status and our future."
Haris Silajdzic, a Bosniak who is the chairman of Bosnia's tripartite presidency, immediately responded that the country's borders were immutable.
"Any attempt at disintegration will be prevented, as it was the last time," he added.
The Serbian entity has never made a secret of its aspiration to join Serbia proper, a desire that directly contributed to the four-year war in Bosnia. The war ended after the intervention of NATO with the Dayton peace agreement in 1995 creating Bosnia as a federation of Serbs, Bosniaks, and Croats.
Legal Limbo
Dodik's regarding the ICJ ruling as "guidance" for the future may be a measure of how much secessionist movements will regard the ruling as vindicating their efforts -- despite the court's own deliberately narrow interpretation.
A woman walks past graffiti reading "Kosovo is the heart of Serbia" in Belgrade.
The ICJ ruled that international law contained no "prohibition on declarations of independence" and so Kosovo's declaration "did not violate international law."
But the court avoided ruling on whether Kosovo's statehood was legal under international law, leaving the decision on whether to recognize the territory's independence to individual countries.
Thus far, 69 countries have recognized Kosovo's independence, including the United States and many European Union members.
Several major powers -- including Russia, China, and Spain -- concerned about secessionist regions of their own, have not recognized Kosovo.
No Change In Transdniester
In Moldova, officials of the breakaway Transdniester region have yet to comment publicly on the ICJ's decision.
But top advisers to Moldova's government say the ruling will not change any of the main players' views of the crisis, including those of Transdniester's main backer, Russia.
"On the Transdniester side, we all know what their statements over the last 18 years have been [demanding full independence], so I don't see how the ICJ decision could change that," says Nicu Popescu, a foreign-policy adviser to Moldova's Prime Minister Vlad Filat.
"As for Russia's statements and policies, Russia has constantly supported Moldova's territorial integrity and I'm absolutely sure that this stance will continue, and there's no reason at all why Russia's support for Moldova's territorial integrity should change."
The predominantly Russian-speaking population of Transdniester attempted in 1990 to secede from Moldova and since then has maintained a separate but unrecognized government with Moscow's support.
Georgian Stalemate
The Georgian government, which has lost two regions to secessionist movements backed by Moscow, also sees the court decision as doing little to change the status of its frozen conflicts.
"I think the decision probably will be used by regimes that are encouraging such kinds of small separatist regions," explains Kote Kublashvili, the chairman of Georgia's Supreme Court.
"Because prior to the decision, those regimes already used the situation very well and officially declared that [the Kosovo] case will affect other would-be-recognized separatist regions. Today's decision and those which have been made before [regarding recognition of Kosovo] will be widely debated first in terms the legal but also the political point of view."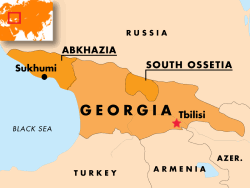 South Ossetia fought a war of secession from Georgia in 1991-92, and Abkhazia did the same in 1992-93. Both have been recognized as independent by Russia, Nicaragua, Venezuela, and Nauru -- but no other countries -- in the wake of the 2008 Russia-Georgia war.
Leading figures in the separatist regions of Abkhazia and South Ossetia say they are encouraged by the court's ruling.
"The fact that Kosovo has been recognized in accordance with international law can be seen as a definitive precedent for Abkhazia, and I think it will serve as an important precedent for Abkhazia," says Irakly Khintba, a Sukhumi-based political analyst.
"I'm not saying that Abkhazia will be recognized simply because it recognized Kosovo. But it is a serious political and historic step [for Abkhazia], that demonstrates that, in the current political environment, it is possible to recognize a state in spite of the will of the 'master state' that it is trying to separate from."
The deputy speaker of South Ossetia's parliament, Valery Dzitsoity, says he regards Pristina's situation as directly comparable to Tskhinvali's. "And moreover, I believe that South Ossetia has more of a foundation to expect recognition of its independence from the West than Kosovo," he adds.
Dzitsoity says that this is because "South Ossetia declared its independence at a time [September 1990] when Georgia was only recognized by Ukraine and was not a member of the UN. And Kosovo is separating from an internationally recognized state and a member of the UN."
No Agreement In Nagorno-Karabakh
Yet another frozen conflict whose parties may look to the ruling is Nagorno-Karabakh, the predominantly ethnic Armenian region that broke away from Azerbaijan following the breakup of the Soviet Union.
The head of the opposition Armenian Revolutionary Federation parliamentary faction, Vahan Hovhannisian, hailed the ICJ ruling.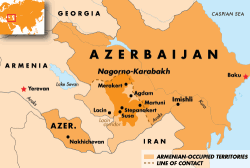 "The judgment clearly states that a unilateral proclamation of independence cannot be viewed as unlawful. For this, of course, there should be prerequisites, and Karabakh has at least the same prerequisites as Kosovo, if not more," Hovhannisian said.
"It means that now we get a new instrument, a new opportunity to struggle for the international recognition of the Nagorno-Karabakh republic."
But Baku says it does not consider the Kosovo ruling pertinent to the Karabakh conflict.
Foreign Ministry spokesman Elxan Poluxov told RFE/RL's Azerbaijani Service that Azerbaijan believed the ICJ's decision applied "only to Kosovo."
"Conflicts differ and there is no single solution for all conflicts," Poluxov added. "We don't see that the decision may somehow affect the Nagorno-Karabakh conflict and negotiations on this conflict should have their own format."
Ethnic Armenians in Nagorno-Karabakh fought a war of secession from Azerbaijan in 1991-94, backed by Yerevan.
Most of the region of Nagorno Karabakh today is governed by the unrecognized Nagorno-Karabakh republic, while the territory remains internationally recognized as part of Azerbaijan.
RFE/RL's Armenian, Azerbaijani, Balkan, Georgian, and Moldovan services contributed to this report, as did RFE/RL's Echo of the Caucasus