After five years of bitter estrangement, Russia and Ukraine are taking part in what can only be described as a lovefest.
Russian President Dmitry Medvedev was in Kyiv on May 17, laughing over mutual words of admiration with Ukrainian counterpart Viktor Yanukovych. It was Medvedev's seventh meeting with Yanukovych in just under three months -- a far cry from the state of affairs under his predecessor, Viktor Yushchenko, with whom Moscow cut off all dialogue.
That's because Yanukovych has reversed Yushchenko's pro-Western policies in spectacular fashion since taking office in February, dimming Kyiv's drive to join NATO and extending the Russian navy's controversial lease of the Black Sea port of Sevastopol in return for cheaper Russian natural gas.
But beyond the bilateral deals, there are signs that Moscow's new cooperation with Kyiv is adding muscle to Kremlin policy toward its other neighbors. Russia appears to be using its newfound friendship with Ukraine to reassert its influence over another former Soviet republic, Moldova.
On May 17, Medvedev and Yanukovych issued a joint statement over Moldova's breakaway pro-Moscow region Transdniester, urging that the territory be granted "special status." In a break from usual practice, the statement refers to Transdniester and Moldova as separate entities, which some suggest may represent a form of creeping recognition of the separatist region.
Transdniester split from Moldova soon after the Soviet collapse in 1991, following a brutal war that ended with the intervention of Russian peacekeepers. The region has been locked in a frozen conflict ever since, host to hundreds of Russian troops who remain despite Moscow's repeated promises to withdraw them. The Kremlin has propped up the separatist government with financial aid and issued Russian passports to Transdniester's residents.
Moscow Muscle
Russia and Ukraine are both members of the so-called five-plus-two conflict mediation group, together with the Organization for Security and Cooperation in Europe (OSCE), the European Union, and the United States. But Moscow and Kyiv apparently announced their new initiative on Transdniester without informing either their five-plus-two partners or the Moldovan government.
Vlad Spanu, of the Washington-based Moldova Foundation, told RFE/RL's Moldovan Service the move was meant as a show of strength.
"Russia is flexing its muscle over the Transdniester issue, showing Moldova -- but also the United States and European Union -- that it's they who will decide how the Transdniester question will be solved," Spanu said.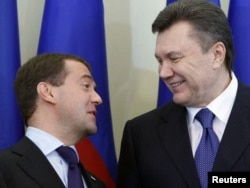 Russian President Dmitry Medvedev (left) and Ukraine's Viktor Yanukovych think Transdniester should be granted "special status."
Although the Russo-Ukrainian statement is vaguely written to appear neutral by continuing to back the five-plus-two format, Spanu says it's actually directed against the Moldovan government.
Other analysts agree. Anneli Ute Gabanyi of the German Institute for International and Security Issues in Berlin told RFE/RL's Moldovan Service that Moscow wants to use Transdniester to meddle in Moldova's internal affairs and maintain its military presence there.
"The ball is now in the court of the EU, but especially of the United States," Gabanyi said. "We'll see if they'll be able to crystallize a firm position, and how Russia will react to it."
Moldova and the EU have responded in statements couched in diplomatic niceties while making their displeasure clear. Moldovan Prime Minister Vlad Filat said his country welcomed "all active participation" by mediators, but he asked Russia to help resolve the conflict by withdrawing its troops from Transdniester.
The EU's foreign policy chief Catherine Ashton issued her own statement backing Moldova's "fundamental principles of sovereignty and territorial integrity" and praising Filat for confirming "readiness to further engage with all [Moldova's] partners."
Divide And...
But experts say there's a deepening sense among Moldovans the West is more interested in improving relations with energy-rich Russia than risking Moscow's ire by acting to protect common values in former Soviet republics.
Pro-Western Moldovans have reason to worry. They see this week's statement by Moscow and Kyiv as an attempt to exploit political uncertainty in their country. The government, which is pushing EU integration, took power last year after voters ousted the old Kremlin-friendly Communist administration following street protests over an earlier rigged presidential election. But the Communists have managed to keep the weak governing coalition paralyzed by obstruction in parliament.
Meanwhile, Moscow is moving on economic fronts as well. The state monopoly Gazprom has sued Moldova in a Moscow arbitration court to recover $280 million in unpaid gas debts, the bulk of which is said to be for gas sent to Transdniester, outside of Chisinau's control. Russia's "Izvestia" newspaper also reported that Moscow and Kyiv may soon withdraw from agreed economic sanctions against Transdniester.
The Transdniestrian separatist government appears to be signaling its own indifference to Western pressure by arresting an independent local journalist on charges of espionage. The U.S. Embassy in Chisinau, the EU, and the OSCE have all called on Tiraspol to release Ernest Vardanean from detention and ensure he receives a fair trial, but they have met with little response.
All sides are looking to the next five-plus-two meeting next week in Kazakhstan, which currently chairs the OSCE. But few in Moldova believe this week's Russian-Ukrainian statement bodes well for hopes of progress over the two-decade-long Transdniester conflict.
RFE/RL's Moldovan Service contributed to this report