(RFE/RL) -- Iranian President Mahmud Ahmadinejad, speaking in Tehran at a one-day summit of the Economic Cooperation Organization (ECO), called on member nations to turn the looming global economic crisis into "opportunities."
Ahmadinejad characterized the present Western-inspired economic order as "irresponsible" and said that by increasing trade among themselves, the 10-nation ECO could find economic safety.
The group was founded in 1985 by Iran, Pakistan and Turkey, and now includes Afghanistan, Azerbaijan, Tajikistan, Turkmenistan, Kazakhstan, Kyrgyzstan, and Uzbekistan.
He also said the region should think about developing a single currency.
Although the summit's formal sessions are largely given over to economic themes, the real interest in the meeting lies in the rich mix of countries it brings together.
Some of them are at the center of the world's political stage, such as Iran, with the international dispute over its nuclear intentions; Pakistan, with its struggle against Islamic extremism; and Afghanistan, with its long-running Taliban insurgency. The leaders of Iraq and Syria are also present as guests.
'Everything Has Changed'
With such a diverse cast, it would be surprising if the summit did not go beyond trade and economics. For instance, Turkish President Abdullah Gul has called on Iran to review its hard-line political stance toward the United States.
Speaking before flying to Tehran, Gul said the arrival of U.S. President Barack Obama in the White House has changed everything, and other countries now need to review their policies to take account of this.
Reports have said that Gul is personally delivering a message to Ahmadinejad from Obama. These reports are unconfirmed, but it's clear that the Obama administration is trying to build a new atmosphere around the question of contacts with Iran.
U.S. Secretary of State Hillary Clinton, who has just visited Ankara, indicated on March 6 that Iran would be invited to an international conference on Afghanistan to be held on March 31.
Iranian Foreign Minister Manoucheher Mottaki says Iran is considering accepting the invitation.
Pakistani Foreign Minister Shah Mehmoood Qureshi said in Tehran that his country would add its voice to those urging Iran to attend the conference.
And Ahmadinejad has had the opportunity to talk over the matter directly with Afghan President Hamid Karzai, who is also in Tehran for the ECO summit.
In his speech to the summit, Karzai appealed to ECO members to help Kabul fight drug smuggling. He acknowledged what he called the "bitter truth" that his country is the world center of opium production.
He said there is a direct link between drug smuggling and terrorism, and he asked the ECO for help in combating both.
Journalists In Trouble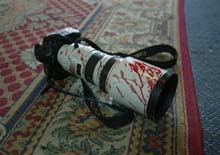 RFE/RL journalists take risks, face threats, and make sacrifices every day in an effort to gather the news. Our new "Journalists In Trouble" web page recognizes their courage and conviction, and documents the high price that many have paid simply for doing their jobs. More