(RFE/RL) -- The U.S. special envoy to Afghanistan says that both the expected leaders in the presidential race have assured him that they will take steps to calm passions over which of them is ahead.
Richard Holbrooke made the statement late on August 21 after meeting with President Hamid Karzai and his main rival in the presidential race, Abdullah Abdullah, whose campaign teams have both already claimed victory in the August 20 presidential election, although vote counting in still in its early stages.
Holbrooke also said Karzai and Abdullah have told him they will respect the outcome of the election and will not incite their supporters if election results were disputed.
Karzai's election campaign maintains that early polling station results show that the incumbent will have enough votes to avoid the second round of vote.
Abdullah, a former foreign minister, insists he is leading but he has not ruled out the possibility of a runoff.
Afghan election officials have repeatedly called on both candidates to refrain from victory claims, saying it is too early to determine who has won the election.
The Independent Election Commission (IEC) said that only it is in the position to issue the official outcome of the vote.
Preliminary official results are expected to be released on September 3, with final results to be issued on September 17. Partial preliminary results are expected early next week.
If no candidate secures more than 50 percent of the vote, a runoff is to be held within two weeks of the announcement of the final results.
Complaints Of Vote Rigging
In the meantime, Afghanistan's Electoral Complaints Commission, (ECC), said it has begun to assess complaints filed by monitors, candidates, and their representatives.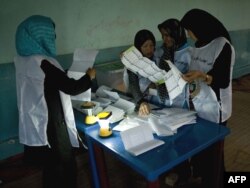 Election workers count ballots at a polling station in Kabul. A partial result is expected next week.
Fahim Hakimi, an ECC official, told RFE/RL's Radio Free Afghanistan that over 100 complaints were sent to the commission from Kabul alone.
Hakim said most of reported violations include multiple voting and underage voting.
He said there were also allegations that after polls were closed in some polling stations, election workers stuffed the ballot boxes with ballots favoring a particular candidate and removed ballots cast for rival contenders:
"If we determine that some voters were underage, their votes would not be counted. In districts where violation reports are proved, vote results would be cancelled, ballot boxes would be quarantined and votes would be recounted," Hakim said.
"In the case of extensive violations, we would call on the Election Commission to conduct a new vote in that particular polling station."
Election officials and monitors have said turnout was much higher in the relatively stable northern provinces than in southern areas, where the Taliban has more of a presence.
The militant group had vowed to disrupt the election and warned people against taking part in the vote.
Many Afghans Defy Taliban
Defying threats by the hard-line Taliban, millions of Afghans participated in the county's second-ever direct presidential election to choose their leader from among over 30 candidates.
U.S. President Barack Obama praised the election as an "important step forward in the Afghan people's efforts to take control over their future."
Obama said he was impressed by the Afghan people's "courage in the face of intimidation and their dignity in the face of disorder."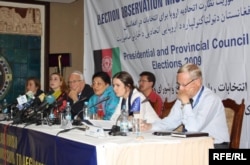 EU election observers said the vote was mostly free and fair, except where Taliban intimidation played a role.
Washington has repeatedly pointed out that the United States does not have a favored candidate.
European Union election observers said in a statement on August 22 that the elections were generally good and fair, but not free in some provinces due to violence and intimidation.
The EU monitors acknowledged that the Taliban threat to disrupt the election was real.
"Election day was marred by a number of violent incidents, including rocket attacks and explosions targeting polling station and government facilities throughout the country," said the EU statement. It noted that the attacks resulted in "civilian injuries and deaths."
Afghan election monitors have reported that militants in the southern Kandahar Province had cut off the ink-stained fingers of two voters.
by RFE/RL correspondent Farangis Najibullah based on Radio Free Afghanistan and agency reports