NEW YORK -- At least 5 million Iranians live outside their homeland and a record number of them are expected to participate in the presidential election. Even in the United States, which has no diplomatic relations with the Islamic republic, voting is taking place.
Two polling stations have been set up in New York City for expatriate Iranians, one in Manhattan, in a conference room at the Grand Hyatt Hotel and another one, at the Imam Ali Islamic Center in the borough of Queens.
An Iranian official told RFE/RL that "several hundred" Iranian citizens were registered to vote in the New York area.
By 8 a.m., the Manhattan voting station had opened and the casting of ballots began in an orderly manner. There were two Iranian flags, a table with water bottles, sweets and fruits, small stacks of election bulletins and flyers, a slogan in Persian over the voting-registration table, a ballot box, and several Iranian officials standing nearby.
A stocky man around 50 wearing a fedora was the first to enter the polling station and to fill out the necessary paperwork. After casting his ballot, he said that although he's been out of Iran for the last 26 years, he feels excited this time around and sees that there is an opportunity to affect the situation back home.
"I feel that with the younger generation there's a tremendous pressure for change. And one thing which is very hopeful is the tremendous participation of women in this campaign," said the man, who works as a scientific researcher and gave his name as Reza.
"This all to me seems like the beginning of a movement toward more liberation, more democracy, and more participation by the people. So I think that my one vote may in fact have a little effect to speed up this process of movement toward more democracy in Iran."
The man said he felt it was important to try to replace current President Mahmud Ahmadinejad in a legal, democratic way because Ahmadinejad was leading Iran toward isolation and radicalism.
Hopeful For The Future
A youthful athletic man with thick dark hair and glasses named Ali, a graduate student at Columbia University, said that he had lived in the United States for over five years and voted in the past in presidential elections in Iran. But this was his first time voting outside the country.
"It is a little more competitive [this time], yes, I think it is different because, as I know, the youth in Iran, as far as I've heard, the youth in Iran -- they are more aware of the political status and economy status, so, they care and that's what I care for. I enjoy seeing people care for their future," he said.
Ali said that when he was voting back in Iran, in many polling places the election officials did not have experience and often there was confusion and a miscount of ballots. In New York, he said, the voting process appeared to be organized smoothly.
Ali said he gathered some of the information for the voting from the Internet and from Iranian officials at Iran's UN Mission. He said they had been cordial and helpful.
His wife Ayesha said she was excited to participate in these elections. "It is really good that they have the elections in New York because going to Washington, D.C. wasn't really easy for us," she said. "We've been following the debates and what's going on and stuff like that, so we're just hoping to have nice results from the elections and hopefully a better Iran."
The other polling station in New York is located at the Tehran-controlled Imam Ali Islamic Center in the borough of Queens. The borough of Queens is the home of the largest Persian community in New York.
Iran Election Diary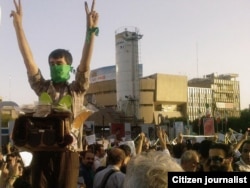 Disputed Presidential Vote
There have been protests and clashes with police on the streets of Tehran following the disputed reelection of Mahmud Ahmadinejad. RFE/RL collects videos, photos, and messages on social-networking sites coming out of Iran to attempt to get a picture of what is happening inside the country.
Click here