Iranians have turned out in massive numbers to vote in what has been described as one of the most important elections in the Islamic Republic's short history.
Voting hours were extended into the evening to accomodate long lines at the polling stations. Reuters quoted an Interior Ministry official as saying that polls have closed, but that voters already standing in line before closing time will be allowed to cast their ballots.
The Interior Ministry has said it expects a near-record turnout of more than 70 percent. There are 46 million eligible voters.
The front-runners are incumbent hard-line president Mahmud Ahmadinejad and his main rival from the reformist camp, Mir Hossein Musavi. The two other candidates are former parliament speaker and reformist cleric Mehdi Karrubi and the former commander of the Revolutionary Guard, Mohsen Rezai.
In the first news of violence during the election, Radio Farda reported that Musavi's office in northern Tehran was attacked by several individuals who threw tear gas. A member of the Musavi campaign who was present during the attack told Radio Farda that the office staff caught and locked up some of the attackers.
The head of Musavi's campaign in Fars Province, Sadegh Abbasi, told Radio Farda that government militiamen have been engaging in intimidating behavior at some polling stations. "Unfortunately, what we're seeing very often at the voting centers is the active presence of Revolutionary Guard forces in military uniforms as if they were going to take part in maneuvers," he said.
Musavi and Ahmadinejad have been leading in the polls, running neck-and-neck. Musavi's supporters are already claiming that he is getting about 60 percent of the vote, but it is unclear how they arrived at that number. The claim has been rejected by Ahmadinejad's advisers as "psychological warfare."
But polls in Iran are
notoriously unreliable
and election results in the past have often produced surprises. Much will hinge on the final percentage of voter turnout.
Heated Campaign
The election is being held in a deeply divided Iran. It follows a heated campaign, sharp televised debates, and carnival-like street parties thrown by supporters of the two main candidates.
Ghodratollah Alikhani, a reformist legislator, tells RFE/RL that there is unprecedented enthusiasm among the country's youth, who make up two-thirds of Iran's population.
Supreme Leader Ayatollah Ali Khamenei was among the first to vote in front of a crowd of high-ranking clerics. In Tehran and Qom, Iranians stood in long lines to cast their ballots.

"The majority of the youth [are active]," he says. "The excitement is special among the youth, and it is in favor of Mir Hossein Musavi."
But some young people have been also expressing support for Ahmadinejad.
Elyaz explains why she has decided to vote for the incumbent president.
"[Ahmadinejad] has done so much," Elyaz says. "He has brought us to the attention of the region. He has brought us to the attention of the world. Nobody knew Iran. When [U.S. President Barack] Obama, a man in such a position, reaches out to Iran, when he respects Iran -- that's something that Ahmadinejad is responsible for. That's why we will vote for Ahmadinejad."
Karrubi has also received the support of young voters, including members of Iran's largest reformist student group, which has endorsed him.
Rezai is expected to receive some votes from conservatives voters but is not expected to do well.
Most observers have predicted a high turnout, an outcome reformists are hoping for in their effort to unseat Ahmadinejad.
Well-known actress Pegah Ahangarani spoke to Radio Farda as she cast her ballot in Tehran, saying the polling station was crowded with voters.
"I don't know whom [these people] are supporting, but I guess -- and based on what I saw and what I heard standing in the queue -- the majority will vote for Mir Hossein Musavi," she said. "I think [voter turnout] is very high. In previous elections I had also voted at the Hosseinyeh Ershad [polling station], but it was never as crowded as today."
"Today at the [polling station], I voted with a lot of enthusiasm," Somayeh, a voter in the northern Iranian city of Rasht, told RFE/RL. "I have never seen anything like this before. The majority of the women who were there were encouraging people [to tell others to vote]."
Tehran-based journalist Serajedin Mirdamadi tells RFE/RL's Radio Farda that in Tehran and the city of Mashad, turnout was high even before voting began.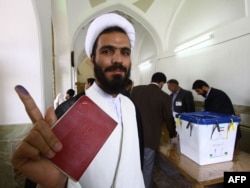 An Iranian clergyman shows his ink-stained finger after voting in the holy city of Qom.
"People had been standing in long lines at the polling centers in Tehran and some other cities even before the start of the official polling, which began at 8 a.m.," Mirdamadi says. "It has been the same in Mashad, from what I found out."
Radio Farda report that text-messaging services, which are particularly popular among the country's youth, have been blocked across the country since the early morning hours.
Concerns Over Manipulation
The reformists have expressed concern over vote manipulation.
"We are worried regarding the [presidential] election, as [authorities] did not let our representative be present at the vote-counting in the Interior Ministry," Morteza Alviri, a senior aide to Karrubi, tells Radio Farda.
"From a legal point of the view, the candidates have the right to do so. They have also disconnected our SMS system, one of our most important tools of communication," he says.
Elections results are expected within 24 hours.
If no candidate obtains a majority of votes, a second round of voting is due to be held June 19.
The election is being keenly watched by Iranians inside and outside the country -- many of whom are expected to vote in absentia. The outcome is also being followed by countries which have been at odds with Iran, especially over its disputed nuclear activities.
Radio Farda broadcasters Mahin Gorji and Mohammad Zarghami contributed to this report
Iran Election Diary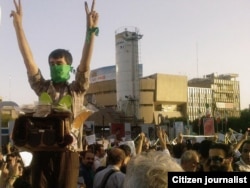 Disputed Presidential Vote
There have been protests and clashes with police on the streets of Tehran following the disputed reelection of Mahmud Ahmadinejad. RFE/RL collects videos, photos, and messages on social-networking sites coming out of Iran to attempt to get a picture of what is happening inside the country.
Click here