Moscow has been slow to pull its troops out of Georgia, with the first units promised to leave only now. That means that parts of Georgia have spent almost two weeks under Russian occupation since the shooting stopped.
For most of that time, journalists have had only limited access to areas in Georgia proper that are under Russian control.
"There are some places where the Russians are not interacting at all, where they are aggressive, touchy, almost ready to engage in a firefight with the Georgians, and there are other places where on the contrary they appear quite friendly," says Rob Parsons, international affairs editor at France 24 and one of many foreign journalists in Georgia trying to piece together a picture of the occupation.
Parsons says that on August 16 "I was in the small Georgian town of Kaspi, where there were several places in the town where the Russians had taken up positions with tanks and armored personnel carriers and their soldiers were wandering around freely. Now some of them were Ossetian as well. And they were interacting quite happily with the local population, chatting with them, discussing the issues, discussing whether it was right for them to be there at all in the first place."
Those are the benign scenes. But there are also places, particularly near South Ossetia's border with Georgia proper, where access is much more tightly controlled. There, observers are not welcome.
"The growing suspicion is that ethnic cleansing is still going on and [on August 17] I met a French correspondent who had been in the area of Akol Gori, which is part of Georgia proper, northwest of Tbilisi by about 35 kilometers and just a few kilometers from the South Ossetian border and which is the new point or relocation for Russian troops," Parsons says. "And there were hundreds of Ossetian irregulars marauding through Georgian villages there."
Parsons says that Georgian refugees from these villages and from Georgian villages inside South Ossetia tell terrible stories of atrocities as they were chased from their homes.
"There are stories of murders, rapes, burning of houses, thefts of property, driving off of cattle, and kidnapping," Parsons says. "Human Rights Watch, which is the only independent human rights organization so far to get into the area, has confirmed many of those reports."
The UN High Commissioner for Refugees (UNHCR) says that almost 159,000 people have been displaced by the conflict, with close to 100,000 displaced within Georgia itself, some 30,000 within South Ossetia, and some 30,000 within Russia.
The UNHCR said it was able to enter the Georgian city of Gori for the first time on August 17. Agency staff members said the city was deserted and shows "clear signs of massive looting."
Situation Inside Ossetia Unknown
The situation inside South Ossetia is the hardest of all to independently assess.
Human Rights Watch told RFE/RL on August 17 that both sides in the conflict have taken soldiers and civilians as prisoners of war. But in the South Ossetian capital, Tskhinvali, Georgian civilians have been used as forced labor to clean up war damage in the city.
"We saw those people working in the city, cleaning up debris after the bombings. We were told by representatives of the authorities, unofficially, that those people were indeed detained and that they were hauling debris in the city voluntarily," Anna Neistat of Human Rights Watch told RFE/RL's Georgian Service.
"Understandably, we were not able to speak to any of those people, to our regret," Neistat said. "But I think it is very important today to clarify their status, whether they are detained [civilians] or prisoners of war."
Russian authorities gave international reporters a bus tour of the region over the weekend.
"The New York Times" has said the reporters were denied access to Georgian villages on the way to Tskhinvali. But out the bus windows, they were able to see that "in some villages as many as 90 percent of the homes looked ruined."
In Tskhinvali, the reporters also saw heavy damage. "The New York Times" said the separatist Foreign Ministry building "is a charred hulk" and "a tank gun's barrel has crashed through the entrance to the university."
Georgian troops shelled the city on August 7 in a bid to retake control of the breakaway region. Street-to-street fighting with Russian tanks then gutted more of the city before the Russian Army swept on into Georgia proper.
Even as Moscow has promised to begin withdrawing soldiers from Georgia, it remains unclear how long the withdrawal might take. It is equally unclear when a humanitarian corridor might be opened to South Ossetia.
Pope Benedict XVI called on August 17 for the opening of such a corridor, which would allow Georgian forces to recover dead and wounded and international observers to assess the fate of Georgian villages in the area. There has been no immediate response to the call.
Crisis In Georgia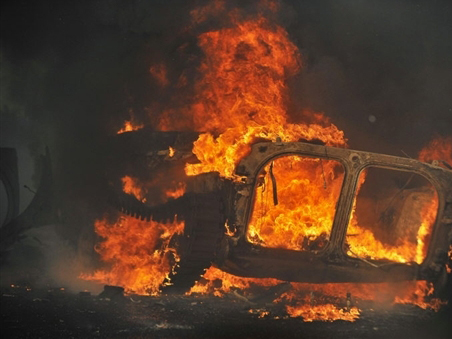 For RFE/RL's full coverage of the conflict that began in Georgia's breakway region of South Ossetia,
click here
.