But a special correspondent for RFE/RL's Georgian Service who is in Gori said that by early evening, Russian troops continued to man the checkpoints they have used to control access to that city for the past week.
Speaking nearly an hour after Russian Defense Ministry spokesman Nikola Umarov told Sky News categorically that "in the city of Gori, there is not a single Russian soldier,"
correspondent Goga Aptsiauri reported
seeing "several armored Russian vehicles in Gori, and several other trucks loaded with [what appeared to be] enlisted men."
"Some people began to hope that maybe they were beginning to pull out," Aptsiauri said. "But it looks like what happened is that those [Russian armored vehicles and troops] simply circled the town, doing their so-called patrolling, and then returned to their positions at checkpoints where they've been stationed thus far."
A 10 p.m. curfew that was announced by Russian Major-General Vyacheslav Borisov, who commands troops around Gori, has gone into effect in the streets of Gori, which lies 30 kilometers beyond the disputed territory of South Ossetia.
After his arrival in Gori on August 18, Georgian National Security Council Secretary Alexandre Lomaia told Aptsiauri that Moscow was dragging its feet on an agreed withdrawal in order to destroy Georgian military infrastructure and inflict maximum economic damage.
He also alleged that not only were Russian forces delaying any pullout, they had set up at least one new checkpoint on the outskirts of Gori.
Lomaia pledged that his country would start rebuilding as soon as "Russia's occupying forces" left the country, but added that ensuring a Russian military pullout remained the most urgent priority.
Orders From Moscow?
Russian President Dmitry Medvedev was said to have ordered troops to begin withdrawing from Georgian territory on August 18, some 10 days after Russian forces responded to a Georgian attack on South Ossetia on the night of August 7-8.
Colonel General Anatoly Nogovitsyn, deputy head of the Russian military's General Staff, told reporters that Russian forces had started to withdraw from the conflict zone.
"Russia has finished the operation on halting Georgia's aggression against South Ossetia," he told a daily official briefing in Moscow. "The pullout of peacekeeping forces started today."
But by nightfall, there were few signs of any withdrawal. Russian troops and tanks continued to control a large portion of Georgian territory, including the country's main east-west highway. Russian forces also continued to move throughout Georgia, and tried briefly to enter the valley of Borjomi before being turned back by Georgian military police.
AP reported that four Russian armored personnel carriers, each with about 15 men, moved in the afternoon from Gori to the village of Igoeti, even closer on the road to the Georgian capital, Tbilisi.
The Georgian Interior Ministry said Russian forces had blown up stores of ammunition and weaponry at a base near the western town of Senaki in their drive to weaken Georgia's army, Reuters reported.
Ministry spokesman Shota Utiashvili said Moscow's troops also destroyed the runway at the base. "They are destroying everything and then pulling out of these places," he said. "If they call this a pullout, then I do not understand the meaning of the word."
The United States on August 18 urged Russia to withdraw its forces from Georgia "without delay."
"The Russians have said that their withdrawal would start at midday today," White House spokesman Gordon Johndroe said. "We will continue to closely monitor Russian actions in Georgia for confirmation of the withdrawal."
Moderate Tone
In past days, the apparent slow Russian reaction would have drawn a sharp response from Georgian President Mikheil Saakashvili, who since the start of the conflict has referred to the Russians as "21st-century barbarians" intent on "ethnic cleansing."
But in televised comments on August 18, Saakashvili was more moderate in tone, calling for talks between Georgia and Moscow -- despite the Kremlin's insistence it will not meet Saakashvili at the negotiating table.
Saakashvili's softer language follows talks in Tbilisi on August 17 with German Chancellor Angela Merkel.
Merkel, whose country is seen as generally pro-Russia, surprised many by offering a strong show of support for Georgia's goal of joining NATO -- a major point of irritation with Moscow.
Review NATO Relations
Moscow has announced it will review its relations with NATO following a statement by Jaap de Hoop Scheffer in which the NATO secretary-general described Russia's actions in Georgia as "excessive."
Dmitry Rogozin, Russia's ambassador to NATO, called de Hoop Scheffer's comments "utterly intolerable." Russia has also sharply criticized the U.S. Defense Department's role in coordinating aid shipments to Georgia.
Meanwhile, the Vienna-based Organization for Security and Cooperation in Europe (OSCE) is holding a special meeting to decide whether to send additional observers to Georgia.
The OSCE last week agreed in principle to boost to around 100 its contingent of unarmed military monitors tasked with supervising compliance of the current cease-fire agreement between Russia and Georgia.

Eduard Kokoity
, the separatist leader of South Ossetia, told Reuters he will not accept any international observers in his region. Kokoity also said he would ask Moscow to
station a military base
on his territory.
His comments underscore the likelihood that Moscow and Tbilisi will continue sparring over the status of South Ossetia and a second breakaway region, Abkhazia-- as well as the continued, loosely defined role of Russian military forces serving there as nominal peacekeepers.
Nogovitsyn said a "reinforced" Russian peacekeeping contingent is carrying out reconnaissance activities in South Ossetia to ensure the security of the civilian population in Russia's "zone of responsibility."
Nogovitsyn also said peacekeepers had assumed control of the Inguri hydroelectric power plant near the Abkhaz-Georgian border. He said the plant, which supplies electricity to a large part of Georgia and Abkhazia, was vulnerable to terrorist attack and needed Russian protection.
Continued uncertainty on the ground is continuing to hamper efforts to deliver aid to the tens of thousands of people estimated to have been displaced by the conflict.
It has also complicated attempts to establish a reliable casualty count, although a number of rights groups say the numbers are far lower than initial figures indicated.
Clashes In Georgia: Chronology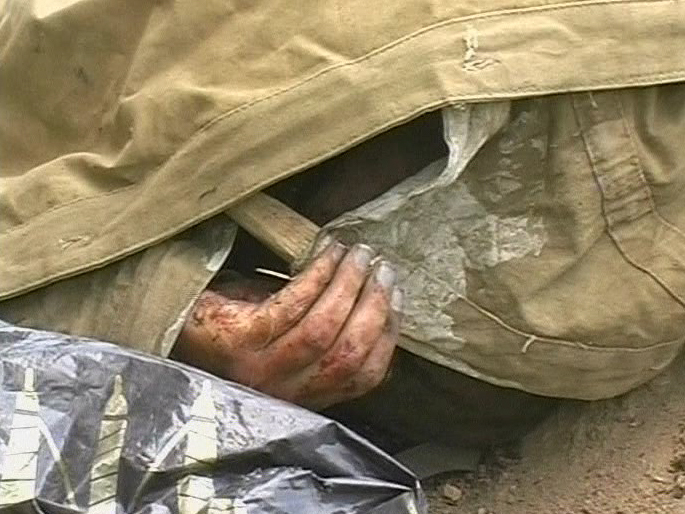 Clashes In Georgia: Chronology
Video of the fighting in Georgia's breakaway regions, and the latest efforts to end the conflict (Reuters video). Play


For full coverage of the clashes in South Ossetia, Abkhazia, and Georgia proper,
click here
.