KABUL (Reuters) -- Afghan President Hamid Karzai and his chief rival, who have both claimed election victory, have assured U.S. officials they will respect the outcome despite fears of ethnic unrest, Washington's top envoy has said.
U.S. envoy Richard Holbrooke met Karzai and former Foreign Minister Abdullah Abdullah in Kabul on August 21, a day after presidential elections went ahead amid sporadic violence and despite Taliban threats to disrupt the vote.
Both camps said on August 21 they were on track to win enough votes for an outright majority of more than 50 percent to avoid a potentially destabilizing second round runoff vote in October.
The election is a major test for Karzai after eight years in office, as well as for U.S. President Barack Obama's new regional strategy of pouring in thousands of extra troops to defeat the Taliban and its Islamist allies and stabilize Afghanistan.
Asked if he feared the leading candidates would incite their followers if the result was disputed, Holbrooke said, "they said they wouldn't."
"They're all putting their own views but they all said they would respect the process," Holbrooke told reporters traveling with him in Kabul. He reiterated that Washington does not have a preferred candidate or favored outcome.
Official preliminary results are not due for two weeks.
Election observers say a second round between Karzai, an ethnic Pashtun, and Abdullah, who draws support from Tajiks in the north, risked dividing the country along ethnic lines, and that disagreement over the outcome could lead to civil unrest.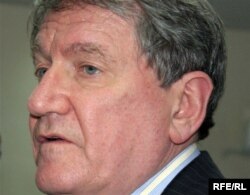 U.S. special envoy to Pakistan and Afghanistan Richard Holbrooke
"Everybody understands there is an ethnic issue in the country," Holbrooke said.
"It's a factor, it's not a concern. Is it a factor that gives us heartburn? No, but it is a factor," he said.
Violence, Intimidation
In Washington, Obama praised the vote as a move in the right direction. But he warned that Taliban violence may continue as official results are finalized.
"Over the last few days, particularly yesterday, we've seen acts of violence and intimidation by the Taliban, and there...may be more in the days to come," he said at the White House.
Polls conducted before the election showed Karzai in the lead but not by enough to avoid a runoff.
Afghan and U.S. officials breathed a sigh of relief after the relatively peaceful election, after a dramatic escalation in violence in the weeks leading up to the vote.
Counting began after polls closed on August 20 and Afghanistan's Independent Election Commission (IEC) has urged patience as the process proceeds, saying only the IEC was in a position to release official results.
The claims made by Karzai's camp and Abdullah are based on unofficial observations by thousands of campaign workers at the 6,200 polling stations.
Preliminary official results are due on September 3, with the final result set to be released by the IEC two weeks later, although there are indications the result could be delayed by at least another week.
Independent election observers like election monitoring group Democracy International urged a quick end to the counting.
"I think it is unfortunate that the IEC has decided to withhold the vote count as long as they apparently intend to," said Glenn Cowan, a Democracy International governance expert.
"While we understand this is a difficult environment in which to hold an election, at the same time the political environment is uncertain," he said in comments e-mailed to Reuters, adding an early release of results would help relieve pressure.
Afghan and international observers have said the poll had been marked by serious problems, but had so far been credible.
The IEC has said preliminary figures showed overall turnout at around 40-50 percent, roughly in line with Western diplomats preelection estimates, compared with about 70 percent of registered voters in the 2004 presidential poll.
Much is likely to depend on turnout in Pashtun areas in the south, such as Karzai's home province of Kandahar, where the president draws his strongest support but where voters faced the brunt of Taliban attacks and intimidation.
U.S. combat casualties have risen sharply as the extra troops were being sent to Afghanistan, and opinion polls have shown weakening American backing for the war.