JALAL-ABAD, Kyrgyzstan -- Uzbek journalist Ulukbek Abdusalamov has been transferred due to his poor health from jail to house arrest in the southern Kyrgyz city of Jalal-Abad, RFE/RL's Kyrgyz Service reports.
Abdusalamov, who is vice president of the Uzbek Culture Center in Jalal-Abad, reportedly suffered a stroke on September 17 after being hospitalized several days earlier.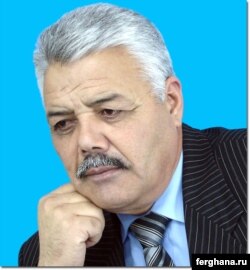 Ulukbek Abdusalamov
He and three other defendants are charged with inciting interethnic hatred, separatist propaganda, and organizing mass unrest.
Abdusalamov's lawyer, Bektursun Kalmanov, told RFE/RL that due to Abdusalamov's health problems, the other three defendants are being tried separately.
Abdusalamov is the editor in chief of the bilingual (Uzbek and Kyrgyz) weekly "Didor" (Image). He was arrested by Kyrgyz security forces while trying to cross the Kyrgyz-Uzbek border days after unrest in Kyrgyzstan's southern Osh and Jalal-Abad Oblasts in June that left nearly 400 people dead and hundreds more wounded.
Uzbek Culture Center President Kadyrjan Batyrov is also wanted by the Kyrgyz authorities on the same charges. Batyrov is the founder of the Peoples' Friendship University in Jalal-Abad, which was seriously damaged during the violence. His whereabouts are unknown.
Earlier this month, a video appeared on YouTube in which Batyrov claimed he is innocent of the charges against him. He added that Abdusalamov and well-known Uzbek rights activist Azimjan Askarov had nothing to do with the ethnic violence.
Askarov and seven other Uzbeks were found guilty by a court in Nooken on September 15 of organizing ethnic clashes and of murderomg a policeman in the village of Bazar-Korgon. Askarov and four others received life sentences, two were given 20-year jail terms, and one person was sentenced to nine years.