Nine years have passed since Al-Qaeda operatives crashed three U.S. passenger planes in a mass terrorist attack on New York and Washington, killing nearly 3,000 people. A fourth plane crashed in Pennsylvania, when the passengers overpowered the hijackers, killing all on board.
In some places in America these days, though, it's as if time stood still. The unofficial slogan of 9/11, printed on countless bumper stickers and posters, is "Never Forget."
The suspicion and mistrust that fell on American Muslims in the weeks and months following the terror attacks have returned in some quarters, triggered by the announcement that a Muslim cleric plans to build an Islamic cultural center and mosque a few blocks from where the World Trade Center in New York once stood.
Before 9/11, America's estimated 6 million Muslims led largely unquestioned lives. Islam was widely accepted as just one of the many threads in the nation's rich religious fabric.
After 9/11, many Muslim Americans found themselves having to prove to their non-Muslim neighbors, friends, and coworkers that Islam was a peaceful religion and that terrorist groups like Al-Qaeda had nothing to do with them.
Repairing Damage
In the years since, great strides have been made -- not only in the public understanding of Islam but in the recognition that being Muslim is not incompatible with being American.
But that progress has recently been threatened by the furious reaction to the announcement that a group called the Cordoba Initiative is planning to build an Islamic cultural center a few hundred meters from New York City's "Ground Zero."
In addition to a swimming pool, restaurant, and classrooms, plans call for the center to house a mosque, which some angry opponents suggest would disrespect the thousands of people who died in the attacks on New York and serve as a de facto victory shrine to the Muslim terrorists.
The project has been approved by the local authorities, and New York City Mayor Michael Bloomberg has personally endorsed the plan, saying it illustrates America's commitment to freedom of religion. But that hasn't stopped project opponents from leading an increasingly vocal campaign.
As the mosque protests and heated debate over Islam's true meaning have played out in the national media, ugly anti-Muslim incidents have followed. In New York, a Muslim cab driver was stabbed by a passenger who yelled anti-Islamic threats. In California, a plastic pig was thrown into a mosque. In Tennessee, the site of a planned mosque was set on fire. And in the most headline-dominating incident, the leader of a tiny Florida church announced plans -- now in doubt -- to burn a pile of Korans on September 11.
Although the number of incidents is low, the number of Americans who say they hold "unfavorable opinions" about Islam is at its highest since just after the 9/11 attacks: 49 percent -- nearly half the country -- according to a Washington Post-ABC News poll of 1,000 people between August 30 and September 2. Nearly one-third of Americans think Islam encourages violence, the same poll said.
End Of Ramadan
The mood of intolerance is peaking with the ninth anniversary of 9/11, which in turn coincides with what is traditionally the happiest time of year for Muslims, Eid al-Fitr, the end of Ramadan.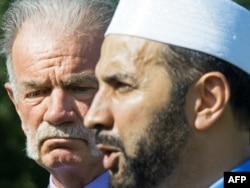 Imam Muhammad Musri (right), from the Islamic Society of Central Florida, speaks at a press conference with Dove World Outreach Center Pastor Terry Jones in Gainesville, Florida.
But in reaction to the national mood, some mosques are toning down their celebration plans, fearful that the sight of Muslims celebrating will appear disrespectful on what has become a highly sensitive date on the U.S. calendar.
At the country's largest mosque, the Islamic Center of America in Dearborn, Michigan, followers have been anxiously discussing the controversy with mosque leaders, according to Kassem Allie, the center's executive administrator.
In response to recent incidents, Allie said the center will hold an interfaith prayer service one the eve of 9/11 with 10 local religious organizations, including Jewish and Christian groups, to pray for tolerance. On September 11, there will be a candlelight vigil for the victims of the 2001 attacks.
But overall, Allie said people in Dearborn -- which is home to the country's largest American Muslim population -- haven't experienced a change for the worse "in their everyday lives."
"We are conscious of these incidents and unfortunately every additional incident seems to pile on," Allie said. "Hopefully we'll send a message of tolerance and peace and try to set examples by the way we react to these things."
At the suburban Washington Muslim Community Center, board member Rashid Makhdoom told "The Washington Post" this week that there will be "no celebrations, no festivities" to mark Eid.
At another nearby mosque, the ADAMS center in Sterling, Virginia, some 20,000 Muslims will celebrate Eid on September 10 and avoid festivities on September 11. The Dar Al-Hjrah Islamic Center in Falls Church, Virginia, will have pony rides and free ice cream for children, but not until September 12.
Eid will also be celebrated on September 10 at the Islamic Center of Washington. Earlier this week, conversations with a few men who had gathered to break their fasts and take part in evening prayers revealed a calmness -- almost a detachment -- about recent headlines.
'Live Righteously'
Looking resplendent in white robes and a full white beard, Abbas Koroma, the director of the center's library, peered over his glasses and told a reporter that isolated incidents of hatred haven't dented his warm feelings for America.
"No, no, no, no," Koroma said. "The fact of the matter is we are allowed to practice our faith in this country to any extent we want to."
His advice to other American Muslims, he said, is to live according to the Koran, even when their fellow citizens threaten to burn it as a symbol of their hatred for Islam.
"We have to be tolerant, we have to act righteously, and we have to live righteously," Koroma said. "We cannot be arrogant, we cannot be aggressive, we cannot be combative; we have to be peaceful. We have to follow the path of Islam brought to us by the Prophet Muhammad, peace and blessing be upon him."
Nearby, Muhammad Wahli leaned against a pillar, smiling, and didn't stop smiling even as he listened to a recitation of anti-Islamic incidents that have taken place lately in the United States. He apologized for not following the news, but the news that much of America is in an anti-Islamic mood didn't strike him as particularly alarming.
"I don't have any problem, I'm OK," Wahli said. "I pray, I'm learning [the] Koran, I'm fasting. I don't have any problem, I'm happy."
Other worshippers echoed that sentiment, saying that the Koran teaches them that the only way to respond to hatred is with kindness.
A man hurrying to prayers said he doesn't condone violence, and no Muslim should.
"If somebody's doing wrong," he said, "you try to educate them and say, 'This is not right.' Revenge is not the right thing to do."