WATCH: Relatives and friends of victims of the September 11, 2001, terrorist attacks in the United States gathered for a solemn ceremony at Ground Zero in New York. U.S. Vice President Joe Biden attended the memorial on the ninth anniversary of the attacks, in which nearly 3,000 people died.
By RFE/RL
Ceremonies in the United States have been held to remember the nearly 3,000 people killed in the 9/11 attacks, as religious tensions marred the run-up to the tragedy's ninth anniversary.
Grieving relatives and friends gathered for an emotional commemoration service at New York's Ground Zero, where Muslim extremists flew two hijacked planes into the twin towers of the World Trade Center on September 11, 2001.
The memorial in New York was attended by Vice President Joe Biden, while U.S. President Barack Obama was at the Pentagon, which also came under attack on 9/11.
First Lady Michelle Obama and former First Lady Laura Bush traveled to Shanksville, Pennsylvania, where a fourth plane crashed into a field after passengers tried to retake control of their plane from the hijackers.
Obama, speaking at the Pentagon ceremony, paid tribute to the victims.
"Nine years have now passed. In that time, you have shed more tears than we will ever know," Obama said. "And though it must seem some days as though the world has moved on to other things, I say to you today that your loved ones endure in the heart of our nation, now and forever."
Pre-Anniversary Tensions
The anniversary arrived amid signs of growing anti-Muslim feelings in the United States, partly due to a controversy over plans to build a mosque near the site of the attack in New York and partly due to a Florida-based pastor's plan to burn copies of the Koran on 9/11.
U.S. President Barack Obama, who was at the Pentagon for commemoration ceremonies, took a firm stand on both issues.
Speaking at a September 10 news conference, Obama issued a stern rebuke to Pastor and part-time furniture salesman Terry Jones, whose plans drew angry reactions from Muslims and non-Muslims alike. "The idea that we would burn the sacred texts of someone else's religion is contrary to what this country stands for," Obama said.
A man holds an American flag outside ceremonies to honor the 9/11 victims at Ground Zero in New York on September 11.
The U.S. president warned that threats of burning Korans could lead to a recruiting bonanza for Al-Qaeda, the group that carried out the 9/11 attacks under the leadership of Osama bin Laden.
Pastor of a parish with just dozens of members, Jones has since
called off
his "Burn A Koran Day" plan. The pastor's son said his father had agreed not to burn copies of the Koran following a telephone call from U.S. Defense Secretary Robert Gates.
In Afghanistan, 11 people were injured on September 10 in protests against Jones' plan, and protests smoldered for a second day ahead of the cancellation.
Difficult Time
Speaking in his weekly radio and web address on September 11, Obama said: "This is a time of difficulty for our country. And it is often in such moments that some try to stoke bitterness -- to divide us based on our differences, to blind us to what we have in common. But on this day, we are reminded that at our best, we do not give in to this temptation. We stand with one another. We fight alongside one another. We do not allow ourselves to be defined by fear, but by the hopes we have for our families, for our nation, and for a brighter future."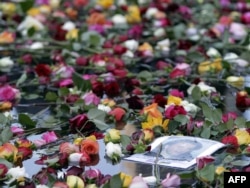 Flowers and a photo of a 9/11 victim in the reflecting pool at the former World Trade Center site during ninth-anniversary ceremonies.
The ninth anniversary of the attacks comes one day after a report by former heads of the 9/11 commission warned that the United States faced a growing threat from homegrown insurgents and an "Americanization" of the Al-Qaeda leadership.
On the planned Islamic center near Ground Zero, Obama reiterated his backing for the project, citing the multifaith roots of the United States, hailing the right to freedom of religion, and stressing that the United States is "not at war with Islam."
At the Pentagon ceremony, Obama sought to soothe religious tensions within the United Nation, calling on the nation to unite around its fundamental values.
"They may seek to spark conflict between different faiths, but as Americans we are not and never will be at war with Islam," Obama said. "It was not a religion that attacked us that September day. It was Al-Qaeda, a sorry band of men which perverts religion. And just as we condemn intolerance and extremism abroad, so will we stay true to our traditions here at home as a diverse and tolerant nation."
Opponents say building an Islamic center near Ground Zero would be insensitive to the families of 9/11 victims. They vowed to protest the plan at a street protest after the official commemoration ceremony in New York. Speakers at the protest were due to include former U.S. Ambassador to the United Nations John Bolton and Dutch lawmaker Geert Wilders, the Muslim-baiting leader of the Freedom Party in the Netherlands.
A counter rally in defense of the center was also planned in New York.
Some supporters of the project, however, preferred to hold a vigil near the proposed center's site on September 10, saying they did not wish to tarnish the memorial services with the controversy. The vigil also coincided with the celebration of Eid al-Fitr, a Muslim holiday marking the end of Ramadan.
Among the 2,000 people waving candles and American flags was Congressman Keith Ellison, a Minnesota Democrat and the first Muslim ever to be elected to the U.S. Congress:
"It brings together what I believe Ramadan is all about: reflection, thinking about people who are facing adversity, thinking about healing, coming together," Ellison said. "And to be able to stand with these good people on a day like this on the Eid to me is the best way I could experience and express Eid."
Lost Loved Ones
Amid the fears of religious tensions marring the 9/11 ceremonies, most relatives of the victims quietly mourned their loved ones.
Peter Marino lost his father Lester, who was working as an electrician on the 105th floor of the Trade Center's South Tower the morning the planes crashed into the buildings.
Marino said that marking each anniversary of his father's death is difficult.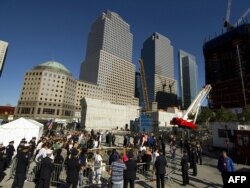 Family members pay respects to lost loved ones at Ground Zero's reflecting pool in New York on September 11, 2010.
"It's very tough to get through," Marino said. "Of course, there is a lot of anger, too, but we try to be there for each other more than anything."
Marino is a member of the American Brotherhood MC, a motorcycle club set up by the brother of another victim, John Cartier.
Cartier lost his 26-year-old brother James, also an electrician who had been working in the South Tower at the time of the attack.
Cartier, who narrowly escaped death himself, said the club helped him keep the memory of his brother, a motorcycle fan, alive.
"I'm a survivor from the collapse. I was standing right in front of Century 21 when the South Tower came down in the middle of the street, holding my sister's hand," Cartier said. "At the same time that me and my sister were running, my brother was losing his life. I returned to Ground Zero with the hopes to find my brother and stayed down there on and off for seven and a half months in the recovery effort."
The memorial in New York was attended by Vice President Joe Biden.
First lady Michelle Obama and former First Lady Laura Bush were to appear at ceremonies in Shanksville.
based on agency and RFE/RL reports