Three defendants on trial along with former Kyrgyz President Kurmanbek Bakiev have failed to appear in court and the authorities do not know their whereabouts, RFE/RL's Kyrgyz Service reports.
The three -- former Prosecutor-General Nurlan Tursunkulov, Bakiev's former chief of staff Kanybek Joroev, and Oksana Malevannaya, the former head of Bakiev's presidential office -- are among 28 people on trial in connection with the deaths of antigovernment protesters in April.
The trial in Bishkek's Sports Palace resumed today after it was adjourned last week following rowdy scenes in which some relatives of the victims threatened the defendants, their lawyers, and family members.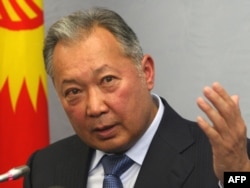 Kurmanbek Bakiev lives in exile in Belarus.
Our correspondent said today's session was markedly more peaceful.
But after the three failed to show up, prosecutors told the court they were also not at their homes, where they had been under house arrest.
The judge said the three would be tried in absentia. Bakiev and five other defendants, including one of his brothers and his eldest son, are already being tried in absentia.
The judge also turned down a request by 16 of the defendants to be transferred from jail to house arrest.