For Giorgi Kapanadze, the fighting in South Ossetia began days before the world even noticed that a war was going on.
Pro-Moscow separatist forces had been shelling his hometown of Avnevi, an ethnic-Georgian village inside the breakaway region, pretty much nonstop since the beginning of August until Georgian troops entered the enclave around midnight on August 7-8.
"The war did not start on August 7 for us, it started on August 2," Kapanadze, who now lives in a shelter for displaced persons in Tbilisi, told RFE/RL's Georgian Service in a recent interview.
Dozens of eyewitness accounts like Kapanadze's, collected by RFE/RL correspondents on the ground, contradict recent media reports -- most prominently a November 7
article
in "The New York Times" -- suggesting that Georgia attacked the South Ossetian capital, Tskhinvali, unprovoked on August 7.
Tbilisi has long claimed that in sending troops to South Ossetia, it was acting defensively against separatist and Russian aggression.
The eyewitness accounts are also consistent with a report, issued on August 5, by a tripartite monitoring group, which included Organization for Security and Cooperation in Europe (OSCE) military observers and representatives of Russian peacekeeping forces in the region.
The report, signed by the commander of Russian peacekeepers in the region, General Marat Kulakhmetov, said there was evidence of attacks against several ethnic-Georgian villages in South Ossetia. The report also claims that South Ossetian separatists were using heavy weapons against the Georgian villages, which was prohibited by a 1992 cease-fire agreement.
Much recent media attention -- including reports aired by RFE/RL's Georgian Service as well as the November 7 "New York Times" article -- has focused on Tskhinvali and accusations that Georgian forces began bombing the South Ossetian capital with indiscriminate force on the night of August 7-8.
Breaking An Uneasy Peace
Supported by Russia, South Ossetia fought a brutal war to secede from Georgia in the early 1990s after the breakup of the Soviet Union. A 1992 cease-fire ended the fighting and established a peacekeeping contingent comprising Russian, Georgian, and Ossetian forces. The agreement did not resolve the question of South Ossetia's final status, and it remained formally part of Georgia but enjoyed de facto autonomy.
Prior to the renewed outbreak of armed conflict in August, ethnic Georgians made up just less than one-third of the population of South Ossetia. The region was a checkerboard-like patchwork of Georgian and Ossetian villages that coexisted side-by-side in an uneasy peace.
But that uneasy peace abruptly ended in the beginning of August, when Georgian and separatist-controlled villages in South Ossetia began exchanging gun, mortar, and grenade fire, with each side blaming the other for initiating hostilities.
"The most extensive shelling began on August 7, although our village had been attacked in previous days too," Gocha Petriashvili, a resident of the ethnic-Georgian village of Nuli, told RFE/RL's Georgian Service.
He added that the attacks began on August 2 when his neighbor's home was hit with mortar fire and burned down. "It was a miracle that nobody was killed there. The parents somehow managed to get their 4-month-old baby down from the second floor to the yard," he said, adding that he also witnessed a minivan carrying women and children come under machine-gun fire.
Petriashvili fled Nuli on August 10, and later learned that his home burned to the ground after being hit with mortar fire.
Another Nuli resident, Bela Chavchavadze, concurs with Petriashvili's account that the shelling started on August 2 -- when the home of a local police officer was bombed, causing it to burn to the ground -- and intensified on August 6-7.
"On August 6, in the evening they were shooting and shelling. Around midnight it all stopped but resumed again in the early morning," Chavchavadze says. "We were lucky to have left the village before the roads were blocked."
And in the ethnic-Georgian village of Ergneti, which is in the Gori region outside of South Ossetia's administrative borders in Georgia proper, residents also reported heavy shelling starting in the beginning of August. "Ergneti was bombed before the military confrontation started. In the first days of August there was extensive shelling of the village, many houses have been damaged. A man I know was wounded," says local resident Temur Tatunashvili.
Fresh Allegations
The tripartite monitoring group also found evidence suggesting that Nuli, Eredvi, Zemo Nikozi, and Zemo Prisi -- all ethnic-Georgian villages -- had come under attack by separatist forces prior to the full-fledged outbreak of armed conflict on August 7-8.
"Traces of various calibration shells were found on local residential houses in Zemo Nikozi. Bullet holes were found in the roofs of private houses and other buildings of Zemo Nikozi in the vicinity of residential areas," the report said.
"In the settlements of Nuli, Eredvi, and Zemo Prisi, observers found 82-millimeter fractions on private houses as a result of grenade-launcher attacks. Military observers from the Joint Control Commission witnessed shootings towards Sarabuki, a Georgian peacekeeping post, with a 120-millimeter grenade launcher and one 100-millimeter mortar."
In an article published on November 7, "The New York Times," however, wrote that "newly available accounts" from military observers from the OSCE "question the long-standing Georgian assertion that it was acting defensively" when Georgian President Mikheil Saakashvili ordered troops into South Ossetia just before midnight on August 7-8.
The monitors, including a Finnish major, a Belarusian airborne captain, and a Polish civilian, told diplomats at two confidential briefings that Georgia attacked the South Ossetian capital Tskhinvali on August 7 "with indiscriminate artillery and rocket fire." The article also said the monitors "were unable to verify that ethnic-Georgian villages were under heavy bombardment that evening, calling into question one of Mr. Saakashvili's main justifications for the attack."
Georgian officials have challenged the account. Moscow, meanwhile, has embraced it and asked the OSCE to conduct a broader inquiry into the allegations.
Georgia has long called for an international investigation into the events leading up to the start of the war. EU foreign ministers have sanctioned such an investigation and chose Swiss diplomat Heidi Tagliavini, the former head of the UN Mission in Georgia, to head it.
Speaking at a press conference in Moscow on November 12 after meeting Russian Foreign Minister Sergei Lavrov, Finnish Foreign Minister Alexander Stubb, the current OSCE chairman in office, said he would comply with Russia's request, but also appeared to cast doubt on some of the monitors' allegations.
Stubb said the small contingent of monitors in Tskhinvali was not in a position to determine how the war started. "It's not my job to make the judgment on who started the war, or how it actually started," Stubb said. "The OSCE isn't an intelligence service. Our instruments are, unfortunately, very limited."
Unarmed Military Officers In A Couple Of Cars
"The New York Times" cited mostly anonymous OSCE officials in its November 7 story. One official it did quote by name, however, was Ryan Grist, a former British Army captain who was deputy head of the OSCE mission in Tbilisi when the war broke out. Grist has also been cited in numerous other media reports critical of Georgia.
OSCE officials in Tbilisi said Grist traveled to Tskhinvali days after Georgia sent troops into South Ossetia and began giving unauthorized interviews to Russian media that were critical of Georgia. Upon returning to Tbilisi, according to the officials, he was reprimanded, had a heated conversation with his superiors, and subsequently resigned from the organization.
Grist could not be reached for comment and the OSCE says it will not comment on personnel matters.
In an interview with RFE/RL's Georgian Service, OSCE Deputy Spokeswoman Virginie Coulloudon said the organization's monitors make "patrol reports" from the ground "on a daily basis." The organization's reports were distributed to all 56 member states.
"Another level of information is what some of our monitors...experienced during the night of the 7th to the 8th [of August]," Coulloudon said "They were in Tskhinvali. Three OSCE staff members were in the basement of the Tskhinvali office, and they did witness the shelling of Tskhinvali. However, the OSCE is not in a capacity to say who started the war and what happened before the night of [August] 7-8."
Coulloudon added that the OSCE in South Ossetia consists of just "unarmed military officers in a couple of cars."
Tbilisi has fed the confusion about the war's origins. Shortly after Georgian troops entered South Ossetia, Georgian officials cited "restoring constitutional order" in the separatist region as the reason for using force.
Later, Georgia said Russian forces moved into South Ossetia first on August 7, and that Georgia had no choice but to send troops and try to head off the invasion.
David Kakabadze, director of RFE/RL's Georgian Service, contributed to this report
Crisis In Georgia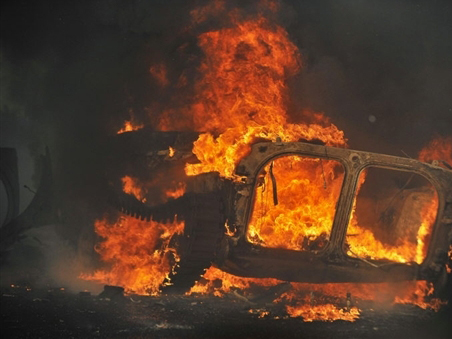 For RFE/RL's full coverage of the conflict that began in Georgia's breakway region of South Ossetia,
click here
.