TBILISI -- Nino Danelia has been doing her part to turn Georgia into a Western-style democracy for two decades.
As a 15-year-old high school student in April 1989, she joined pro-independence demonstrations in downtown Tbilisi and went on a hunger strike against Soviet rule. In November 2003, she was among the throngs of protesters who made up the backbone of the democratic Rose Revolution that swept current President Mikheil Saakashvili into power.
Now a 35-year-old mother of two with short dark hair and thoughtful eyes, Danelia teaches media management at the Caucasus School of Journalism in Tbilisi. And as Georgia prepares to mark the first anniversary of last summer's brief and bitter war with neighboring Russia, she says the political struggle that has consumed most of her adult life has reached a critical juncture.
"I don't want my children to fight for their lives. I want them to live, to have fun, to get their education," Danelia says. "I think that now is a very important time for Georgia. History is sort of repeating itself, but somehow we have learned some lessons from history as well."
The story of post-Soviet Georgia is usually framed as a geopolitical struggle between Russia and the United States, a battle for energy routes and spheres of influence in the Caucasus, and a clash between titanic political figures like Saakashvili and Russian Prime Minister Vladimir Putin.
But at a deeper level, it is also the story of millions of ordinary people like Danelia, who yearn for the kind of stable and predictable lives that citizens of Western countries take for granted.
Many thought they had reached the Promised Land in November 2003, only to be disappointed when the ideals of the Rose Revolution faded as its leaders descended into political squabbling and recriminations.
When Russian tanks rolled into Georgia one year ago this week, the elusive dream of living in an independent and democratic country seemed in mortal danger.
Danelia for one says that despite the ongoing threat from Moscow and her deep disappointment in Georgia's current leaders, the promise of the Rose Revolution "is not dead at all."
She adds, however, that one of the key lessons of the war with Russia and the political crisis that followed is that citizens now "need to push the dream forward" by holding their leaders more accountable than they have in the past.
"Now is exactly the time when we need to create the situation where people believe that there is no alternative to establishing democracy in the country," Danelia says. "I believe that people can do this, if not politicians."
Seeking Consensus
Saakashvili's government survived the war. But the political crisis that followed threatened to destabilize the country as the president stood accused of dragging Georgia into a war that critics say was poorly conceived and incompetently executed.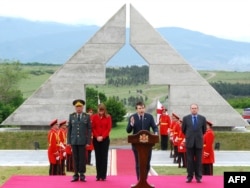 President Saakashvili unveiled a memorial on May 26 to Georgian soldiers killed during the August 2008 war with Russia.
Official Tbilisi has been largely paralyzed since early April, when the opposition began round-the-clock street protests around government buildings to demand Saakashvili's resignation.
There have been signs in recent weeks, however, that the standoff could be easing, and on July 24 opposition leaders announced the end of their street protests.
Days earlier, on the eve of U.S. Vice President Joe Biden's visit to Georgia, Saakashvili announced a series of democratic reforms designed to address some of the opposition's concerns.
They included an offer of early local elections in May, reinstating the direct election of the Mayor of Tbilisi, reforming the electoral code to reduce the possibility of fraud, and allowing the opposition a say in the appointment of the head of the Central Electoral Commission.
Some opposition figures, like former parliamentary speaker Nino Burjanadze and former presidential candidate Levan Gachechiladze, still demand nothing short of Saakashvili's resignation.
Others, most prominently former Georgian UN ambassador Irakli Alasania, have been more willing to negotiate with the president and his team, saying the most important goal should be reforming the country's political institutions and not ousting the president.
In a recent interview with RFE/RL, Alasania said he was confident an accord could be reached that would make Georgia more stable and democratic.
"Despite our different approaches and disagreements about who is the best one to lead this country, we agree that we love this country and we are standing for this country's unity and independence," Alasania said. "This will be demonstrated in the near future when an agreement will be reached and we find political consensus."
Pointing Fingers
Georgian officials tend to blame the shortcomings of their rule on pressure from Russia, which has reacted with intense hostility to the pro-Western "colored revolutions" here and in Ukraine.
In an interview with RFE/RL, Georgian Deputy Foreign Minister Giga Bokeria stresses that Russian currently occupies 20 percent of his country's territory -- a reference to the breakaway regions of Abkhazia and South Ossetia -- and that Russian troops are stationed just 30 kilometers from Tbilisi.
Bokeria adds that regime change in Georgia is official Kremlin policy and that Russia consistently tries to interfere in Tbilisi's internal affairs. Last summer's war, he suggests, was simply a continuation and escalation of that longstanding policy.
"Russian leaders have had a problem with every single Georgian leader when they tried to build an independent state," Bokeria says. "The fundamental problem here, throughout these years, is Russia's failure to accept the simple fact that Georgia is a sovereign country. That is the source of the trouble."
Critics of Georgia's rulers acknowledge that Russian meddling has been a big problem -- but they say it's not the only reason the Rose Revolution has failed to live up to its promise.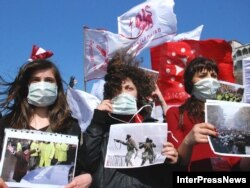 Young people criticizing Saakashvili four months after police forcibly dispersed a crowd in November 2007.
Lasha Bakradze, a Tbilisi-based historian and literary critic, says Saakashvili and his inner circle betrayed the ideals of the Rose Revolution by concentrating power in their own hands and abusing their authority.
He says the elusive dream of a stable and democratic Georgia is very much alive for him, but he adds that he doesn't trust Saakashvili's team to deliver it.
"Unfortunately a lot of the hopes which we had weren't fulfilled. But this was not mainly due to external pressure. It was because our government, the very small group of people who make all the decisions in this country, decided that they knew best," Bakradze says.
"They didn't assist the development of civil society; they didn't create institutions for people to have influence over what was happening. This is a very serious problem."
A Revolution Betrayed
In fact, critics say the tendency to sideline democratic institutions and abuse power began not long after Saakashvili was first elected president in January 2004 with more than 96 percent of the vote.
Rights groups accused Saakashvili and his long-serving interior minister and close ally, Vano Merabishvili, of using the country's law-enforcement bodies for political purposes.
Journalists also complained about political pressure. In July 2006, Eka Khoperia, the host of a popular political talk show on Rustavi-2 television, announced her resignation on the air and walked off the set during a live program.
Opposition figures complained bitterly about a 2006 decision to scrap direct elections of the country's mayors.
Opposition leaders also alleged fraud and voter intimidation in the 2006 local elections, the country's first electoral test after the Rose Revolution, in which Saakashvili's United National Movement won a large majority.
Tension between Saakashvili's government and the opposition climaxed in November 2007 when massive street demonstrations in downtown Tbilisi were violently dispersed by police and the antigovernment Imedi television station was stormed, temporarily shut down, and ownership transferred to a pro-government entity.
Charges of fraud and voter intimidation resurfaced in presidential and parliamentary elections in 2008.
Danelia says she and others who initially supported Saakashvili at first gave him the benefit of the doubt but have become disillusioned over time.
"Power spoils people and we know this," she says. "We gave him [Saakashvili] power and let him use this power how he and his friends and colleagues saw fit without any kind of criticism."
It is a mistake she says they will not make again.
"I think our society will be cleverer and won't let political leaders totally ruin the country," Danelia says.
"I think that the elections that will come will somehow be a test for that," she adds. "Can we survive and develop like a democratic country? Will we allow politicians to play with citizens as they want? Can we establish ourselves as a society?"
RFE/RL's Georgian Service contributed to this report