It was just a few weeks ago that Tajik President Emomali Rahmon was traveling to his country's eastern Rasht region on a mission of goodwill, opening a new college there and discussing economic and social issues with locals.
But that's a distant memory today, after a spate of violent events combined to transform the one-time bastion of the Tajikistan's Islamic opposition once again into a battleground between government forces and militants.
The stakes are high and fears are rising both in and outside the country that Rasht Valley could become a hotbed of Islamic insurgency capable of destabilizing Tajikistan and Central Asia as a whole.
The current crisis originated in the capital, where on the night of August 22 a group of 25 prisoners -- including some high-profile government opponents and Islamic insurgents -- fled a high-security prison located a stone's throw from the presidential palace.
A nationwide search operation followed, and seven of the escapees were soon recaptured. But with most of the escapees at large, eyes turned to the Rasht Valley as a potential refuge and troops were dispatched.
The focus on the region narrowed when 25 government troops were killed in Rasht's Kamarob Gorge on September 19 in an ambush government has blamed on local and foreign fighters. As a result, a full-scale military operation was launched in Kamarob to hunt down militants responsible for the ambush.
On September 22, five fighters loyal to a former opposition warlord, Mirzokhuja Ahmadov, were reported killed. Ahmadov is a native of Rasht who served after the Tajik civil war ended in 1997 as the head of a regional department combating organized crime until he was sent to early retirement in 2008. His whereabouts are unknown, but the reemergence of fighters with ties to him have fueled concerns that some who made peace with Rahmon's secular government have returned to their old ways.
The Tajik government and its Islamist-led opposition signed the peace and reconciliation agreement in 1997, officially putting an end to the country's five-year civil war. Thousands of Islamic fighters were reintegrated into society, and many commanders accepted official positions in law-enforcement agencies. The handful of commanders -- notably Abdullo Rahimov, better known in the country as Mullo Abdullo -- who refused to recognize the peace deal left for Afghanistan, where they established ties with the Taliban and Al-Qaeda.
'Wolf Peace'
Government in Dushanbe officially and nominally managed to get Rasht Valley -- a mountainous region of six districts and some 270,000 population -- under its full control. The heads of the local government were all appointed by Dushanbe and, unlike other regions, were chosen from among local candidates. But many would argue that the Tajik government never managed to win over opposition figures, especially those who remained in Rasht.
Rather, the peace in Rasht was a tenuous one described by Tajiks as a "wolf peace," in which two sides agree to coexist but there is no genuine mutual trust.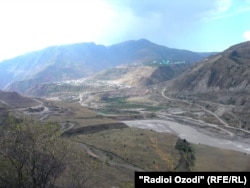 Rasht is a mountainous area and historical bastion of Islamic opposition.
From time to time, the region has seen armed attacks, killings, and military operations. In February 2008, the country's OMON colonel, Oleg Zakharchenko, was killed in an attack in Rasht blamed on former opposition fighters. Tajikistan's independent Asia Plus agency reported that Zakharchenko and his group of subordinates had travelled to Rasht to arrest Mirzokhuja Ahmadov, whose loyalists were targeted by government troops this week.
In May 2009, the region was the scene of a secretive military operation codenamed "Opium," even though the Rasht Valley is not generally known for opium production or as a major drug-trafficking route.
"Opium" took place amid widespread speculation that none other than Mullo Abdullo and several of his armed supporters had returned after their long exile in Afghanistan. Days later, Mirzo Ziyoev, the former chief opposition commander was killed in the eastern town of Tavildara in unexplained circumstances. Ziyoev once served as an emergency situations minister, a position he got under the power-sharing agreement.
Rumors of Mullo Abdullo's return never went away, with government officials accusing Ahmadov of sheltering Mullo Abdullo in his home.
New Allegations
In mid-September, the country's defense and interior ministers and the deputy head of the national security committee traveled to Rasht to meet with Ahmadov and his fellow former warlord Shoh Iskandarov. The content of their meeting has never been made public. However, other local former commanders speculated that the high-ranking officials came to seek the former warlords' support in hunting down Mullo Abdullo.
Now Tajik officials claim that Ahmadov and another former commander, Alovaddin Davlatov, have been running terrorist and religious training camps for young boys.
According to Interior Ministry spokesman Mahmadullo Asadulloev, it was Ahmadov who was behind the recent ambush on government forces.
"Mirzokhuha Ahmadov -- nicknamed 'Belgi' -- has in the past been pardoned by the head of the state and he has promised he would never undermine peace and stability of Tajikistan," Asadulloev said. "But our urgent investigation and search operations indicated Ahmadov himself was in charge of the unlawful group that killed 25 Tajik soldiers and officers."
Ahmadov, an outspoken government critic, has responded by accusing the government of putting pressure on former opposition fighters, which he said could be unintentionally leading them back to Mullo Abdullo and others who never made peace with the government.
Since the Kamarob ambush, opposition politicians in Dushanbe have condemned the attack.
'Us and Them'
Islamic Renaissance Party chief Muhiddin Kabiri has blamed extremist elements from both sides -- the government and former commanders.
"If moderate forces -- both religious and secular -- come together in the name of the nation's and the state's interests, in the name of our common values, we will be able to thwart those minority extremist elements from both camps," Kabiri said. "We [moderates] are the majority."
Some warn that the domestically-bred dispute is not the real worry, suggesting that Rasht is becoming a stronghold for foreign insurgents moving between Afghanistan, Pakistan, and Tajikistan to join local militants. Tajikistan's Interior Ministry, for example, has said that Chechen, Afghan, Pakistani and Uzbek fighters took part in the Kamarob ambush.
Abdughani Mahmadazimov, head of the Society of Tajik Political Scientists, discounts speculation that militants in Rasht are be capable of destabilizing the country.
The conflict will not spread beyond a few villages in Rasht, because militants have no support among the local population, Mahmadazimov says. There are only isolated groups who, unlike opposition forces in pre-war times, lack a clear political agenda, foreign financial backing, and significant support among ordinary people, says the expert.
As for the "state of the peace" in Rasht, Mahmadazimov said the current situation will continue for the foreseeable future.
"Still people are divided into 'us' and 'them,'" he said. "The government and the former opposition leaders still see themselves on two sides of the peace agreement."