Muscovites will have to wait longer than planned to see the Russia Tower soar above the capital. Work has been halted on the 612-meter skyscraper, designed as Europe's tallest building, due to lack of funding.
A number of other construction projects intended to symbolize Russia's economic might have been put on ice amid deepening financial woes. The powerful state gas monopoly Gazprom, too, has shelved plans to build a glossy $2 billion headquarter building in St. Petersburg.
There are many other, less visible signs of the global financial crisis's deepening impact on Russia.
The crisis had so far largely spared the Russian population, mainly because share ownership and private pensions are still rare. But ordinary Russians have begun feeling the pinch in recent weeks, prompting talk of looming social unrest.
"The crisis has only just reached the masses," says Marina Krasilnikova, a living-standards expert at Russia's independent Levada polling center. "The number of people whose salaries weren't paid in time, whose salaries were scaled back, or who were fired has doubled. Last month, these problems affected every fifth family in Russia."
December has seen the first street protests linked to the crisis. Depositors last week rallied outside a Moscow bank, Capital Credit, to demand the return of their funds. And on December 21, riot police clubbed and detained dozens of demonstrators in the Pacific port of Vladivostok protesting an increase in car import tariffs.
The government hiked tariffs on imported automobiles to bolster flagging domestic car production and try to prevent layoffs among the country's more than 1.5 million auto-industry workers.
Plummeting oil prices have dealt a severe blow to the ruble, a currency considered immune to international financial turmoil just months ago.
Leading companies such as carmakers KamAZ and GAZ have registered a 30 percent slump in demand for their products compared to the same period in 2007. Both companies have already announced layoffs.
Economic growth for October was a mere 0.6 percent -- a 10th of September's figure -- making Russia one of the worst performers among emerging economies.
The Kremlin Grows Nervous
The Kremlin has taken emergency measures to prop up the country's economy, including an unprecedented rescue package worth $180 billion. At $450 billion, its foreign-currency reserves are still enormous. But they are quickly dwindling, down from almost $600 billion in August.
The Kremlin also seems aware that growing public discontent over the crisis could eventually grow into a genuine challenge.
President Dmitry Medvedev has instructed law enforcement agencies to stamp out any unrest and take action against those seeking to "exploit the consequences" of the financial crunch. "We have a stable state," he told a meeting of senior officials in November. "We don't need to return to the 1990s, when everything was boiling and seething."
"It's not only possible, it's practically inevitable," says Russian political analyst Nikolai Petrov. "There are many localities where much depends on a single company. When this company closes down, goes bankrupt, or lays off staff, whole cities find themselves without any real source of income and sometime even without infrastructure -- companies don't only supply work, sometimes they also provide the city with heating and electricity."
Weakening Social Contract
With opposition parties weak and divided, the financial crisis is unlikely to pose any immediate threat to the government. The crisis has nonetheless shaken the very foundations of the current regime's popularity.
"In recent years, the country's economic prosperity has gone hand in hand with a purge of the socio-political sphere," Levada's Krasilnikova notes. "The population has been largely indifferent to this because its social contract with the authorities was based on steadily rising living standards for almost all layers of society. The crisis undermines this social contract, and this represents a serious challenge to the current status quo."
Past events have shown that traditionally long-suffering Russians are prepared to take to the street when their revenues are threatened. In January 2005, angry pensioners braved sub-zero temperatures to protest the monetization of Soviet-era social benefits with weeks-long, nationwide rallies that spooked the Kremlin.
Among its raft of anticrisis measures, the authorities have reportedly cautioned journalists against fuelling pessimism over the country's financial difficulties. But even Russia's Kremlin-friendly media have been helpless in stemming public disgruntlement.
A recent poll by the Public Opinion Foundation found that 39 percent of Russians are dissatisfied with the government. In another study by the Levada center, almost half of respondents said they expected years of hardship ahead. Less than a fifth of respondents thought so in the spring.
Unfinished Moscow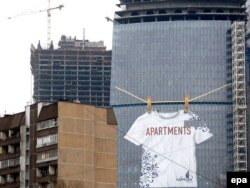 Moscow's once-booming real-estate market is in a state of crisis, and the signs are everywhere.