Five years ago, on the night of June 21-22, 2004, militants under the command of veteran Chechen field commander Shamil Basayev attacked the Interior Ministry headquarters and other police buildings in Nazran, the capital of Ingushetia, killing some 80 people, including acting Interior Minister Colonel Abubakar Kostoyev, his deputy Zaudin Kotiyev, and two local prosecutors.
That multipronged attack focused attention on three hitherto obscure trends that have since taken shape and accelerated the evolution of the Chechen resistance into a pan-Caucasian radical Islamist movement.
The first of those trends is the extent to which arbitrary police reprisals against young practicing Muslims across the North Caucasus have impelled increasing numbers of them to take up arms against a corrupt and ineffective leadership and, specifically, against the police and other security agencies.
The second is the emergence of semi-autonomous resistance groups in North Caucasus regions other than Chechnya -- groups that have since been subsumed into a pan-Caucasus force that uses Russian as its lingua franca.
And the third is the reluctance of the Russian leadership to take resolute action to replace the discredited leadership of the Republic of Ingushetia. As a direct consequence of that failure to intervene, by mid-2007 Ingushetia had overtaken Chechnya in terms of the instability and violence.
Turning Young Muslims To Violence
The geographic expansion of resistance activities over the past five years epitomizes the adage that "violence breeds violence." Many of the young Ingush men who joined the Chechen resistance and participated in the Nazran attack said they did so out of anger and desperation after their brothers or other relatives had been abducted by law enforcement personnel and vanished without trace.
Rashid Ozdoyev, a senior assistant to the Ingushetian prosecutor, chronicled 33 such disappearances between late 2003 and early 2004 before he was detained and disappeared without trace in March 2004.
In May 2004, the website ingushetia.ru posted what it claimed was a statement addressed to Russian Prosecutor-General Vladimir Ustinov by an unnamed Federal Security Service (FSB) staffer who admitted to having worked in Ingushetia since early 2003 as part of a death squad that was required to fulfill a quota of five detentions per week. During that time, he said he "personally...crippled more than 50 people, and buried about 35."
Arbitrary reprisals and harassment by police were similarly a key factor in the emergence of resistance groups in Daghestan and Kabardino-Balkaria. And with the notable exception of the Beslan school hostage-taking in September 2004, the resistance has over the past five years targeted police, armed forces and security forces personnel, and pro-Moscow government officials and clergymen -- but not civilians.
Militant groups in both Daghestan and Kabardino-Balkaria regularly issue warnings to the population of those republics to avoid police stations and military installations that could be subject to attack at any time.
Fracturing Of Insurgency
The decrees promulgated in 2005 by then-Chechen Republic-Ichkeria President and resistance leader Abdul-Khalim Sadullayev constituted the institutional and logistical framework for a network of semi-autonomous resistance groups across the North Caucasus. Sadullayev's successor, Doku Umarov, fine-tuned that framework in the fall of 2006, creating separate, geographically based "fronts" and "sectors" and naming their commanders.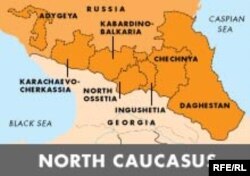 This process too contributed to the internationalization of the resistance. In July 2007, Umarov named an Ingush, Akhmed Yevloyev (aka Amir Magas), to command the Chechen resistance forces and a second Ingush and an Arab from one of the Persian Gulf states as deputy commanders. Similarly, Anzor Astemirov (aka Amir Seyfullah) from Kabardino-Balkaria served for a while as commander of the Dargin sector of the Daghestan front.
Among the rank-and-file resistance fighters apprehended in Chechnya in recent months were a citizen of Azerbaijan (his ethnicity was not specified), and a teenage Russian girl who had converted to Islam and joined the resistance together with her Abazin boyfriend.
To what extent the escalation of reprisals against civilians in Ingushetia was a direct consequence of either the Nazran attack or the Beslan hostage taking is impossible to quantify. The fact remains, however, that since early 2007 the incidence of abductions and police reprisals in Ingushetia against civilians suspected of collaborating with the resistance, on the one hand, and of resistance attacks on police, army, and security personnel, on the other, has skyrocketed.
True, there was a temporary, slight lull during the winter months after Moscow belatedly replaced the ineffective and despised Murat Zyazikov as president with a career military intelligence officer, Colonel Yunus-Bek Yevkurov, last October.
But resistance strikes now again occur almost on a daily basis. And the situation in Ingushetia is unlikely to improve as long as young men risk being apprehended by security personnel or arbitrarily gunned down on the street every time they step out of their homes.
Liz Fuller is commentary and analysis co-editor at RFE/RL. The views expressed in this commentary are the author's own and do not necessarily reflect those of RFE/RL