UN Secretary-General Ban Ki-moon has been holding urgent consultations with leading Security Council members and Turkish and Israeli diplomats in a bid to arrange a full inquiry into the deaths that resulted from the Israeli raid on the Gaza relief convoy.
Ban told journalists between meetings that he wants an immediate end to the blockade of Gaza, and he said he is pressing Israel to give a full accounting of the incident, including lists of the dead and wounded.
Nine civilians died and an unknown number were wounded when Israeli commandos stormed the lead ship of the convoy on May 31.
"This tragedy only highlights the serious underlying problem," Ban said. "The long-running closure imposed on the Gaza Strip is counterproductive, unsustainable, and wrong. It punishes innocent civilians. It must be lifted by the Israeli authorities immediately."
Israel has refused to cooperate with previous investigations ordered by the Security Council, and it seems unlikely to agree in this case. Government spokesman Mark Regev has already said Israel is capable of conducting its own inquiry.
Ban also linked the bloody flotilla clash to the need to restart the Middle East peace process, saying that "the more important thing would be how we can help the Palestinians living in Gaza, how we can fundamentally change their situation in Gaza."
Turkey Welcomes Activists, Blasts Israel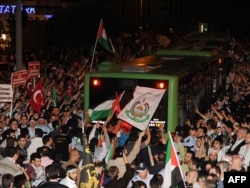 Demonstrators welcome Turkish activists expelled from Israel at Istanbul's airport.
Meanwhile, hundreds of activists have arrived back in Turkey, after being detained and then expelled from Israel. The majority were Turkish nationals, but there were also British, Norwegian, Dutch, and Spanish citizens.
They received a heroe's welcome as they disembarked from three Turkish aircraft that had brought them from Tel Aviv.
Also on board were the bodies of the nine people killed -- eight of them reportedly Turkish citizens and the ninth a U.S. citizen of Turkish origin.
The activists were warmly greeted by a large Turkish government delegation led by Deputy Prime Minister Bulent Arinc. Arinc said he supported the flotilla venture, which was backed by the controversial Turkish-based Islamic charity IHH, which Israel accuses of having links to Al-Qaeda.
Turkey's president today said his country's ties with Israel "will never be the same." Abdullah Gul, speaking on Turkish television, also said the incident has left "an irreparable and deep scar" on relations. He spoke as funerals began for the nine dead activists.
Earlier, Turkish Prime Minister Recep Tayyip Erdogan warned Israel that it "is about to lose its most important friend in the region if it does not change" its "mentality."
Speaking at a meeting of the Turkish Exporters' Assembly in Ankara, Erdogan also said Turkey "will not ignore and turn a blind eye" to the death of the nine activists.
An Irish aid boat is meanwhile heading toward Gaza, where it hopes to deliver vital supplies at the weekend. The "MV Rachel Corrie" -- carrying 15 people including Nobel Prize winner Mairead Maguire -- is on its way to Gaza.
Organizers have said that if the Israeli authorities try to stop or board the vessel those on board "won't resist."
Israel Undeterred
In Jerusalem, Israeli Prime Minister Binyamin Netanyahu renewed his defense of the blockade on Gaza, saying it is needed to prevent rockets and other weapons from being smuggled into Gaza by Iran and others.
"The international community cannot afford an Iranian port in the Mediterranean. Fifteen years ago, I cautioned about an Iranian development that has come to pass. People now recognize that danger," Netanyahu said.
"Today, I warn of this impending willingness to enable Iran to establish a navy port right next to Israel, right next to Europe. The same countries that are criticizing us today should know that they would be targeted tomorrow."
He said Israel had no choice but to stop the flotilla. And he characterized some of the activists aboard the convoy as "violent supporters of terrorism."
That was a reference to Israel's contention that their commandos were set upon with knives, iron bars, and bullets as they boarded the lead ship.
Netanyahu said the naval blockade of Gaza will remain in force.
The Israeli resolve looks likely to be tested soon, as another ship of the so-called "Freedom Flotilla" is steaming toward the Gaza blockade area, with mainly Irish and Malaysian activists on board.
They say they are determined to land their cargo of building supplies and cement in Gaza. Ireland's foreign minister, Michael Martin, has urged Israel to let them through.
compiled from agency reports