Abolfazl Eslami served in Iran's Foreign Ministry for 25 years. That came to an end four years ago, when he learned that the authorities had become "sensitive" about him.
The 50-year-old Eslami says it was his criticism of Tehran's handling of the death of Zahra Kazemi, an Iranian-Canadian journalist, that first got him into trouble.
Kazemi was arrested while taking pictures outside of Iran's notorious Evin Prison in 2003. She later died in a Tehran hospital amid allegations that she was severely beaten and tortured in prison. Prison officials, however, said Kazemi had a stroke.
Eslami, who was the Canada desk officer from 2004 to 2006 at the Foreign Ministry in Tehran, says he had on several occasions stood up for Kazemi and publicly said that the case had hurt Iran and its ties with Canada.
The trouble began for Eslami following the 2005 election of hard-line President Mahmud Ahmadinejad, who replaced the reformist Mohammad Khatami. That's when the atmosphere in the Foreign Ministry changed, the former diplomat says.
Under Khatami, "we could voice our opinions at the Foreign Ministry, the [suppression] was not so bad," Eslami says. "As an expert, I used to express my views, but after Khatami's term ended and Mahmud Ahmadinejad came to power and Manuchehr Mottaki became foreign minister, my friends in the security [department] told me: 'They have become sensitive about you and you could get into trouble.'"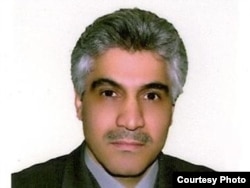 Diplomat Abolfazl Eslami
Eslami decided he had to leave Iran, and within just a few days, he flew to Japan, where he had served from 2001 to 2004 as a consul at the Iranian Embassy.
He says a delegation traveled to Tokyo to try to get him to return to Tehran. He refused. He was then threatened and warned that his family and friends could end up in jail because of him, he says.
Eslami told RFE/RL in a telephone interview that he decided to remain silent and not to go public about his case. But he says he tried to encourage his former colleagues to follow his example and break ranks with the Iranian establishment.

Back In The Public Eye
One of his letters was recently posted on opposition websites that claimed Eslami resigned over the postelection crackdown.
He says he was surprised to read about his letter, which he says was incomplete and misquoted. Yet the publicizing of the letter and the postelection crackdown in Iran that has left some 70 dead made him break his silence.
"I have many things to say to the people on the anniversary of the 1979 revolution. I want to explain to the people how this [establishment] has become paralyzed from the inside; even their own security forces are not with them," he says.
WATCH: Eslami calls on Iranians outside the country not to attend ceremonies held by Iranian embassies to mark the anniversary of the 1979 revolution. In Persian.
He added that people should know that the crackdown has been carried out by a minority – which, according to Eslami, will be defeated through more popular resistance.
Eslami believes many of those employed by Iran's Foreign Ministry disapprove of the domestic and international policies of the clerical establishment.
He says that some remain silent, despite their disapproval, because of the fear of reprisal, while others decide to stay in government because they believe they can reform the system.
He says in the past four years he has received many e-mails and messages from his friends and former colleagues who have praised him and said that they'd like to follow his example, but they're afraid that the Iranian regime could hurt them and their families.
"I used to work in the non-proliferation department of the Foreign Ministry," Eslami says. "All my colleagues there were upset and angry about the nuclear issue and the dealings between Iran and Russia. But there's nothing they can do."
Loss Of
Trust
The former Iranian diplomat says that because of pressure from security elements, Foreign Ministry employees have to somehow conform and adapt to the existing conditions.
He claims that even many of Iran's senior diplomats have lost their trust in the Iranian regime and are waiting to see whether it is to their benefit to resign from their posts.
"None of our ambassadors bring back the salaries which they receive in dollars to Tehran," he says. "They keep it in their bank accounts outside the country. "
Asked whether he's concerned about Tehran's reprisal over his interview with RFE/RL, he replies: "I don't care anymore."
"I see they have spilled so much blood that in order to create fear among people," Eslami says, citing the execution last week of 19-year-old Arash Rahmanipour on charges of attempting to overthrow the Islamic establishment. "My son is 23, what does he know about political issues?"
"I am one of the Iranian people," Eslami continued. "They can come here and do anything to me. It would discredit them even more."
The more blood the Islamic Republic spills, Eslami says, the closer it comes to collapse.