CHISINAU -- A special committee set up by the Moldovan parliament has accused former President Vladimir Voronin of exceeding his constitutional powers by giving police direct orders, RFE/RL's Moldovan Service reports.
The committee was set up to investigate the violent postelection protests last spring that left at least one person dead, dozens injured, and hundreds of other protesters arrested.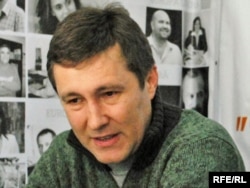 Vitalie Nagacevschi
Led by liberal-democrat Vitalie Nagacevschi, the committee presented its findings to parliament on May 7, more than one year after the violent events. But a vote on the committee's report was postponed as opposition communist members refused to participate in the debate. Voronin is the head of Moldova's Communist Party.
Communist leaders reject the findings of the report, which also accuses special forces and police of failing to prevent the destruction by protesters of the parliament building and the president's office. They insist that the violent protests on April 7, 2009, were a coup attempt organized by the liberal-democrat opposition with help from abroad.
Tens of thousands of young people rallied in central Chisinau during the protests last year to demonstrate against the overwhelming victory of the ruling Communist Party in parliamentary elections, which they allege were rigged.
Less than four months later, the communists lost repeat early elections held after the parliament failed to elect a new president of the country.
The report on the April 7 events endorsed on May 7 by the liberal-democrat majority suggests that communist authorities' "agents" could have infiltrated the peaceful protesters last spring to provoke the violence.
Committee head Nagacevschi said the General-Prosecutor's Office should quickly finish the criminal probe and send to trial policemen accused of beating and torturing the protesters arrested on the night and the following days after the protests.
One police officer is in detention for the alleged killing of a protester during the demonstrations. The former head of the Interior Ministry and other former officials are being investigated for abuse of power.