A former Pakistani general implicated in militant activities by this week's WikiLeaks document dump has refuted allegations of wrongdoing.
Hamid Gul, a former head of Pakistan's premiere intelligence agency, Inter-Services Intelligence (ISI), told RFE/RL's Radio Mashaal that he does not support the Taliban and accused the United States of using him to ease a disgraced withdrawal from fighting in Afghanistan. He called the leaked documents "fabricated."
A handful of the tens of thousands of U.S. military incident and intelligence reports leaked by the whistle-blower website name Gul, whom former Pakistani President Asif Ali Zardai once famously labeled "the political ideologue of terror," as a key facilitator of Afghan insurgents in Pakistan.
'An Open Book'
The 73-year-old Gul said he left the Pakistani military 18 years ago and lives in retirement in Rawalpindi, a city next to the Pakistani capital, Islamabad, that serves as the military headquarters.
"I am like an open book. Every day scores of people visit me from dawn to dusk," Gul said. "The journalists, media people particularly, international TV crews, come to hear my perspective about American involvement in Afghanistan -- I call it aggression and oppose it on moral grounds."
Reports made public by WikiLeaks accuse Gul of organizing mine attacks against Afghan and international troops. He is also accused of organizing the kidnapping of United Nations officials and attending a meeting in the tribal borderland of Arab jihadists who were planning to send suicide bombers to Afghanistan.
Gul headed Pakistan's ISI from 1987 to 1989, when the Red Army left Afghanistan. In the spring of 1989, Gul engineered a large-scale rebel offensive against the eastern Afghan city of Jalalabad. That offensive failed miserably because the anti-Soviet Afghan Islamist guerrillas were ill-prepared for a conventional battle against communist Afghan forces. More than 1,000 guerrillas -- including hundreds of Arabs -- were killed in the two-month siege of the city.
Vocal U.S. Critic
After his retirement from the military, Gul became a prominent supporter of Pakistan-based Islamist militant groups that were active in Kashmir and Afghanistan. He opposed the U.S.-led invasion of Afghanistan after September 11, 2001, and often predicts a strategic debacle for Washington in his speeches and media interviews.
After deadly attacks by militants in the Indian city of Mumbai in November 2008, Washington unsuccessfully urged the United Nations to include Gul on its list of international terrorists over his alleged links to Pakistani militants behind the attacks.
Gul said he regards the WikiLeaks episode as a sign that Washington is preparing to pull out of Afghanistan in failure and is now looking for scapegoats to help it save face. He described it as "a sign of defeat to credit an old retired general [with being] instrumental in [an] American defeat."
Gul suggested that Washington wanted to use the leaks as part of its exit strategy from Afghanistan.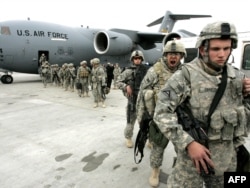 U.S. soldiers en route from Afghanistan (file photo)
"They have decided the timing of their withdrawal [from Afghanistan]. But they are timing it to pressure Pakistan so that they have some victory before the flame [of their power] extinguishes," he said. "They want Pakistan to attack [militant sanctuaries] in North Waziristan [tribal region] -- something that Pakistan is reluctant to do."
Analysts in Islamabad suggest that the information in the WikiLeaks documents is mostly sourced to biased Afghan informants and intelligence operatives. They say those views are colored by hatred of Islamabad's role in Afghan affairs.
Officials in the two countries have a long history of mistrust that has accompanied six decades of acrimonious relations.
written by RFE/RL correspondent Abubakar Siddique in Prague based on an interview by Radio Mashaal correspondent Ahmad Ullah