KABUL (RFE/RL) -- A suicide car bomber has killed at least eight people and injured 40 in central Kabul.
Afghan officials say the bomber appeared to be targeting the home of Ahmad Zia Mas'ud, President Hamid Karzai's former first vice president and the brother of slain Afghan mujahedin commander Ahmad Shah Mas'ud.
Karzai, speaking at the start of an anticorruption conference in Kabul, said that at least two of Mas'ud's bodyguards were among those killed.
Our correspondents saw Mas'ud inspecting the damage and talking to survivors among his security staff shortly after the blast. However, Mas'ud refused to comment about the attack.
'Number Of Killed'

A witness, Wazir Ahmed, told Reuters that he saw many cars burning near the former vice president's home.
"When the blast happened, I walked out of my office and I saw 10 cars belonging to Ahmad Zia Mas'ud destroyed, and I saw a number of people killed and wounded," he said.
The explosion also wrecked cars and shattered the windows of many buildings in the neighborhood, including the fortified Heetal Hotel nearby. A three-story concrete building collapsed, along with the roof of at least one other building in the area.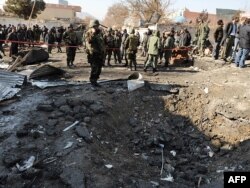 The aftermath of the suicide attack
Kabul's private Tolo-TV reported that a man claiming to be a Taliban spokesman called the station to claim responsibility for the attack.
But Zabihullah Mujahid, one of two confirmed Taliban spokesmen, called RFE/RL in Kabul and said the Taliban had nothing to do with the bombing.
Mas'ud had been first vice president in Karzai's first elected administration from December 2004 until November of this year.

Significant Political Figure
It was in the 2004 presidential election that Karzai announced Mas'ud as his running mate over a powerful ethnic Tajik militia commander who also is from the Panjshir Valley -- Defense Minister Mohammad Qasim Fahim.
Mas'ud survived an assassination attempt in 2004 when a bomb exploded while he was campaigning in the northern Afghan city of Feyzabad.
Karzai dropped Mas'ud from his campaign ticket in the 2009 presidential elections in favor of Fahim.
Nevertheless, Mas'ud is still considered a significant political figure in Afghanistan.
He commands respect and loyalty from many ethnic Tajiks in the Panjshir Valley as the heir to the legacy of his older brother Ahmad Shah Mas'ud, the ethnic Tajik armed opposition leader known as the "Panjshir Lion" who resisted both the Soviet occupation and the Taliban regime from the Panjshir Valley.
Ahmad Shah Mas'ud was assassinated in Takhar Province by suspected Al-Qaeda agents just two days before the September 11, 2001, terrorist attacks in the United States.
Karzai later named the older Mas'ud a "national hero." Afghanistan now observes September 9 as a national holiday -- Mas'ud Day.