The world's biggest book fair is under way in Frankfurt, Germany, with this year's event highlighting Chinese publishers, authors, and artists.
Hundreds of Chinese publishing houses are attending the Frankfurt International Book Fair, many of which have translated titles into English or German for the occasion. But there's a certain tension in the air, because the delegation from Beijing wants to present its own vision of Chinese literature, while some others have different ideas.
This year, the fair this year gathers some 7,000 exhibitors from around the world, making it a true window on global culture.f
The fair's organizers, the German publishers' association, has been trying for the last 15 years to get China to attend the show, but the Chinese were cautious, as always, disliking situations where they might be confronted with dissent. However this year they relented, and agreed to attend as special guests.
The state-run Xinhua news agency reports that China's delegation includes 600 actors and performers and 100 writers, in addition to 700 publishers and traders.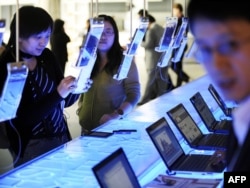 Visitors discover "e-readers" for digital books at the Chinese pavilion.
Opening the exhibition on October 13, German Chancellor Angela Merkel hinted that there might be controversy at China's presence. But she said there must be space for open discussion at the fair.
"China entered the stage at the Frankfurt Book Fair with the full knowledge that balanced, laudatory, as well as a critical voices would be heard, and should be heard here," Merkel said. "There cannot be, and I am sure there will not be, any taboos in the discussion."
One of the fair organizers, Gottfried Honnefelder, went further, saying freedom of expression is an inalienable right.
Germany's Deutsche Welle radio says the potential for conflict is high this year, because many dissident Chinese writers and artists have been invited to the show by German exhibitors.
In fact, there have already been incidents. During the opening ceremony, two demonstrators held aloft placards calling for the release of jailed Chinese intellectuals Liu Xaobo and Tan Zuoren. But there was no disturbance, and they were not forced to leave.
There was an earlier incident when Chinese officials walked out of a pre-fair symposium last month, because of the presence of two dissident writers, Dai Qing and Bei Ling, both of whom had been invited by the organizers.
Bei Ling, a poet, told journalists that there is "another voice" in China, one that does not follow the official line, and which is being forced underground.
As to the latest trends in the book industry, evident at the fair, digitalization remains the buzzword. There are novels and movies for mobile phones, with China alone offering 400,000 e-books. While opening up new opportunities for publishers, electronic media present a serious challenge to the traditional printed book.
The Frankfurt book fair is almost as old as printing itself. The first fair took place in the city more than 500 years ago, after Johannes Gutenberg invented printing with movable letters at Mainz near Frankfurt.
This year the fair runs until October 18.