(RFE/RL) -- Few stories are as Byzantine as the recent case involving Emanuel Zeltser, an American lawyer who late last month was released from a Belarusian jail after spending nearly a year behind bars on charges of industrial espionage.
At the time of his sentencing in August 2008, Zeltser was representing the interests of late Georgian-born oligarch Badri Patarkatsishvili, who held valuable assets in Belarus, including energy concerns Belneftekhim and Naftan.
The Russian-born lawyer -- whose past clients have included Pavel Borodin, the former Kremlin aide accused by a Swiss court of money laundering -- told RFE/RL's Belarus Service the Georgian tycoon had invested "serious sums" in Belarus.
Patarkatsishvili died of a heart attack in his England home in February 2008. The following month, Zeltser traveled to Minsk to investigate the state of his former client's investments at the behest of the oligarch's step-cousin, Joseph Kay.
Zeltser was quickly arrested by the authorities, who claimed he was carrying fake documents. He and his supporters allege that he was framed by Boris Berezovsky, a self-exiled Russian billionaire and a Patarkatsishvili associate who Zeltser says was eager to seize the Georgian's assets in Belarus.
Berezovsky Factor
According to Zeltser, Berezovsky arranged his flight to Minsk in March, and drugged him by spiking his coffee with barbiturates. When Zeltser came to his senses, he was already flying to Minsk aboard Berezovsky's plane.
Zeltser alleges that Berezovsky -- an avowed critic of the Kremlin who is wanted on criminal charges in Russia -- maintains close personal ties with Belarusian President Alyaksandr Lukashenka and was able to arrange for the lawyer's arrest.
"Berezovsky said they had a close relationship that goes back to when Berezovsky was deputy secretary of Russia's National Security Council," Zeltser says.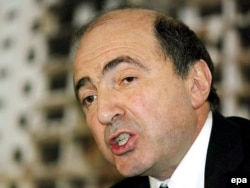 Boris Berezovsky
"In London, in my presence, Berezovsky had spoken to Lukashenka on the phone and had addressed him by his first name -- Alyaksandr. Not [his patronym] Ryhoravich. And not Sasha."
Zeltser alleges there is a "big mutual interest" between Berezovsky and Lukashenka regarding Patarkatsishvili's assets. He adds that Berezovsky acted as the main witness during his trial in August, and attended the court sessions with a bodyguard from the presidential protection service.
The lawyer goes on to confirm that the Russian billionaire visited him in detention and warned that he should plead guilty or risk never being released.
"My lawyer told the judge and the prosecutor that this man" -- Berezovsky -- "is a wanted criminal and that they should detain him. Both of them just laughed," Zeltser says.
"The judge declined my lawyer's motion. And Berezovsky himself said, 'Oh yes, I am a wanted criminal in Russia -- ha ha!' Something like that. It shows that he was sure of his impunity."

Political Pawn
Zeltser, who returned to the United States last week, further says he was severely beaten by his Belarusian captors. "I was beaten immediately after my arrest. My face was covered in blood," he tells RFE/RL.
"They wanted me to call New York to pass a false piece of information to my colleagues, and to lure my client, Joseph Kay, to come to Belarus. I refused. They beat me, and said they would kill me the next time around. So I called."
Zeltser, who is 55 and suffers from diabetes, says his health rapidly deteriorated in prison, where officials refused to give him access to medication. He launched a hunger strike early this year to protest the refusal by the Belarusian authorities to review his case and three-year sentence.
The government announced a presidential pardon for Zeltser on June 30. Lukashenka's press service quoted the president as saying the decision "is important for America and our relations, and will help create a normalization of our relations."
The decision came as Lukashenka was actively courting warmer ties with the West to counterbalance increasing pressure from Moscow.