The Belarusian government has announced a presidential pardon for Emanuel Zeltser, a Russian-born U.S. lawyer imprisoned for nearly a year on espionage charges.
President Alyaksandr Lukashenka's press service said the president signed the pardon on June 30 and quoted him as saying, "This is important for America and our relations and will help create a normalization of our relations."
Officials at the prison hospital where Zeltser was being kept, 200 kilometers east of Minsk, set the American free a few hours later.
"I am glad about my freedom," Zeltser said on leaving the prison clinic in the eastern town of Mogilyov. "I have problems with my health. I plan to get better. I am not making any plans."
News of the pardon was greeted with relief in Washington.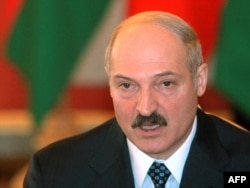 Alyaksandr Lukashenka is seeking closer ties with the EU and United States
Speaking at the State Department, spokesman Ian Kelly said, "We understand that President Lukashenka has signed a presidential decree pardoning Mr. Zeltser.
"As you know, the [State] Department and also our embassy in Minsk have always advocated for Mr. Zeltser's release on humanitarian grounds, and we welcome this news, and are glad that his release appears imminent."
The surprise decison was announced following a rare visit to Belarus by a U.S. congressional delegation.


Three-Year Sentence

Zeltser, who is a naturalized U.S. citizen, is a lawyer who is said to have a vast knowledge of organized crime, particularly the practice of money laundering. One of his clients was the late Badri Patarkatsishvili, a wealthy Georgian who opposes Georgian President Mikheil Saakashvili.
According to Zeltser's brother, Mark Zeltser, the lawyer was in Minsk last summer to check on the status of Patarkatsishvili's assets. Emanuel Zeltser was arrested in August, shortly after he arrived in Minsk.
He was given a three-year prison sentence on industrial espionage charges that his associates say were politically motivated.
He has steadfastly maintained his innocence, and recently went on a hunger strike because Belarusian authorities refused to review his case under the country's new amnesty laws.
Zeltser is a diabetic, but his lawyers say he was at first denied his medications in prison. He was transferred to a prison hospital last November. His Belarusian lawyer, Dzmitry Harachka, said his health is now "satisfactory."
Thaw In Relations


When Zeltser's sentence was handed down, diplomatic relations between Belarus and the United States were strained, and the U.S. ambassador in Minsk had been expelled.
Lukashenka once had extremely close relations with Russia, but those ties soured in 2007 because of rising energy prices. Since then, the Belarusian president has moved closer to the West, particularly the European Union.
The EU has reacted by rescinding an entry ban on Lukashenka and other senior Belarusian officials. The ban had been imposed in 2006 after the EU accused Lukashenka of fixing his reelection.
Lukashenka also has tried to improve relations with the United States, although there is still no U.S. ambassador in Minsk and sanctions remain in place. They include a prohibition on American companies doing business with Belfneftkhim, the Belarusian oil company.
Western Concessions
Ordering Zeltser's release wasn't the first concession that Lukashenka has offered the United States. He's also ordered the release of people that the United States says are political prisoners.
On June 30, Lukashenka told the congressional delegation that his government is "ready to return to a discussion on a complete restoration of a mutual diplomatic presence on condition that economic sanctions against our country be lifted in full."
In Washington, Kelly, the State Department spokesman, said Lukashenka will have to do more than release Zeltser to see a normalization of relations with the United States.
"This was a major obstacle in our bilateral relations," he said. "We still have other concerns, of course, with some of the actions of the Belarusian government. So we're very happy that this one obstacle has been removed, and we'll review our policies as necessary."
The visiting U.S. congressional delegation included members of the Commission on Security and Cooperation in Europe, better known as the Helsinki Commission. U.S. Senator Benjamin Cardin, who led the delegation to Minsk, is the chairman of the commission.