France's ambassador for human rights says he sees a genuine desire by Turkmen authorities to improve the human rights situation in Turkmenistan, RFE/RL's Turkmen Service reports.
Ambassador Francois Zimeray recently visited Ashgabat and met with Turkmen authorities. He told RFE/RL that while the human rights situation is still poor, it is better than under former President Saparmurat Niyazov, when "there were no human rights at all."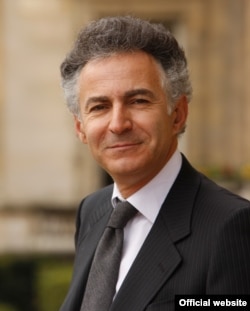 Francois Zimeray
Zimeray acknowledged that there have been no major improvements in the situation since Gurbanguly Berdymukhammedov became president after Niyazov's death in 2006.
But he said there is a desire for improvement, which he said is the first and most important step.
Zimeray said he saw a clear wish to improve specific aspects of human rights in Turkmenistan, including those regarding the judiciary, prisons, and other aspects of the legal system.
Zimeray said he was not allowed to visit any prisons. He told RFE/RL he had hoped to meet with two people tried and sentenced for having spoken to a French TV journalist but was unable to do so. Their families and lawyers do not even know if they are still alive.
Zimeray said he thinks it is counterproductive only to criticize Turkmenistan for failings such as police brutality, dismal prison conditions, and unfair trials.
"My point is not only to judge, to shame, to blame," Zimeray said. "It's also to encourage, to say 'OK, this is what I felt in your country, this is what I understood from our conversations, and I deeply encourage you to go ahead, and we will support you in this direction.'"
He said France hopes to open a dialogue with Turkmen officials focusing on very specific issues such as how to judge minors and what kind of prison regime to create for them.
He said a dialogue between professionals -- police and military officials -- from both countries is likely to be more effective than discussions between rights activists.