(RFE/RL) -- Iran has put more opposition activists and protesters on trial in the continuing crackdown against unrest sparked by June's disputed presidential election.
Iranian state media reported that defendants include more pro-reform politicians, as well as British and French embassy staff workers and a young French national arrested in Tehran last month.
It is the second hearing in a mass trial following massive antigovernment street protests that have been met with beatings by security forces, media blackouts, mass arrests, and vague allegations of "treason" against some opposition leaders.
The first such mass trial took place
a week ago
, when over 100 people appeared in court facing various charges, including acting against national security.
Riot police were dispatched after the start of the proceedings to forcibly disperse relatives of the defendants, who had gathered outside the court building and were chanting "God is great!" according to a report on the Mosharekat website that was cited by Reuters.
At least some of the families appear not to have been informed that their loved ones would be appearing in court, or even of the charges they are facing.
Defendants Incommunicado
Iran's reformist and moderate politicians, including presidential candidate Mir Hossein Musavi and former President Mohammad Khatami, have denounced the mass trials as a "ridiculous show."
Several prominent reformists appeared in the courtroom on August 8, including: Ali Tajernia, a former reformist parliamentarian; Shahaboddin Tabatabaei, a leader of the reformist political party Islamic Participation Front; and Ahmad Zeidabadi, an independent journalist, appeared in the dock.
Zeidabadi's wife, Mahdieh Mohammadi, told RFE/RL's Radio Farda that she has not been allowed to visit her husband in prison nor has she been told what charges he faces.
"Apart from two or three phone calls he made, we haven't gotten any information...and we haven't met with him," Mohammadi said. "We were not informed about today's trial -- even his lawyer wasn't informed about it. We found out from the [semiofficial] Fars news agency website that Mr. Zeidabadi goes on trial today."
As in the first broadcast, on August 1, some of the defendants appeared in the courtroom in pajamas.
The trials represent the first time since the country's 1979-80 Islamic revolution that dozens of former high-ranking officials have been put on trial. Some observers suggest the official response to continuing postelection fallout points to growing fissures among political elite and fear within the clerically dominated establishment of mounting public support for reform.
Lashing Out At West
Iranian media said a prosecutor also accused the United States and Britain of provoking unrest in Iran with the aim of bringing down the Islamic system.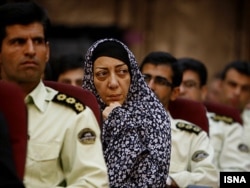 France issued a strong statement denouncing the lack of legal safeguards and demanding the release of embassy employee Nazak Afshar (pictured) and teacher Reiss.
The European Union's Swedish Presidency expressed concern over the court process and solidarity in the face of the accusations.
"The presidency expresses its concern over the ongoing trial in Tehran in the aftermath of the election, including against two EU member states' embassy employees and one EU citizen," a statement by the EU presidency said. "The presidency reiterates that action against one EU country, citizen, or embassy staff, is considered an action against all of the EU."
The 24-year-old French woman, Clotilde Reiss, is accused of collecting information and provoking rioters.
She was arrested at Tehran airport on July 1 on espionage charges, when she was leaving the country after spending five months as a French language teaching assistant in the central Iranian city of Isfahan, and subsequently taken to Tehran's Evin prison.
French President Nicolas Sarkozy had already called for Reiss's immediate release.
AFP cited a report by official Iranian news agency IRNA as quoting Reiss as telling the trial judge that she had "written a one-page report and submitted it to...the cultural department of the French Embassy."
She reportedly further said in court that "I should not have taken part in illegal protests," and added, according to Iran's Fars news agency, "I regret my activities and I apologise to the Iranian nation and the court. I hope they will pardon me."
"After Clotilde Reiss' appearance before a court in Tehran, France renews its demand for the immediate liberation of the young academic, since the accusations against her are baseless," the French Foreign Ministry said in a statement after the court appearance, according to Reuters.
It also demanded the release of embassy employee Nazak Afshar and accused Iran of breaking international law by neither informing its embassy of the women's court appearance nor allowing an embassy to have a representative there.
"We also deplore that Clotilde Reiss and Madame Afshar were not assisted by a lawyer," Reuters quoted the ministry as saying.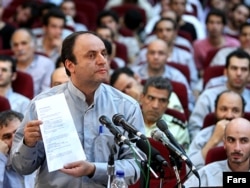 Iranian British Embassy employee Hossein Rassam in court on August 8.
A Britain Foreign Office spokeswoman responded to the trial of its embassy staff member, Hossein Rassam, by calling the process an "outrage." The spokeswoman said the trial "is completely unacceptable and directly contradicts assurances we have repeatedly been given by senior Iranian officials."
"We deplore these trials and the so-called confessions of prisoners who have been denied their basic human rights," the spokeswoman said, according to Reuters.
Rassam was quoted by Iranian media as having confessed to passing along information to Washington.
The Iranian public has become accustomed to seeing detainees emerge after significant amounts of time in custody to confess to crimes against the state -- confessions that in many cases are extracted under duress, according to former inmates and rights group who accuse Iran of routinely torturing prisoners. They are frequently denied access to even the most basic information regarding the charges against them.
Resistance Continues
Tens of thousands of opposition supporters took to the streets to protest the official results of the June vote, which saw incumbent President Mahmud Ahmadinejad secure his second term in office.
Senior Iranian officials including Supreme Leader Ali Khamenei had anointed the hard-line Ahmadinejad the winner within hours of the polls closing in an election dominated by paper ballots.
Opposition leaders said the election was rigged, and street protests in the following days brought out millions of Iranians before authorities declared they would not allow public demonstrations targeting the vote.
Hundreds of opposition supporters, including reformist politicians, activists and journalists have been arrested since the unrest began. Officials have confirmed at least 20 people have been killed although outside estimates are of at least twice that many deaths.
Musavi has pledged to launch a "green movement" to oppose what he described as an "illegitimate" government. He and other prominent vote critics have vowed to continue their protest campaign but do it while remaining inside Iranian law.
written by Farangis Najibullah and Andy Heil based on Radio Farda and wire reports
Iran Election Special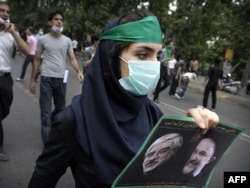 RFE/RL's Full Coverage
Following the disputed reelection of Iranian President Mahmud Ahmadinejad, supporters of Mir Hossein Musavi have taken to the streets to protest.
Click here
for news, blogs, and analysis of the presidential election and aftermath.