The G20 advanced and developing economies have set themselves a difficult task for the next few years.
At their Toronto summit they issued a joint statement in which the debt-laden advanced economies committed themselves to at least halving their budget deficits by 2013 and stabilizing or reducing government debt-to-GDP ratios by 2016.
At the same time, they agreed to follow policies stimulating economic growth -- in other words, to implement austerity and stimulus measures at the same time, policies which broadly speaking are contradictory.
This awkward compromise reflects the differing inputs at the summit.
U.S. President Barack Obama came to Toronto with a warning that excessive concentration on budget-cutting could endanger the tender plant of economic recovery and plunge the world back into recession. He wanted more emphasis on the need to follow pro-growth policies.
The European economies, however, argued that their heavy indebtedness and budget deficits are in themselves barriers to sustainable growth and are best tackled now, before more Greece-style crises occur.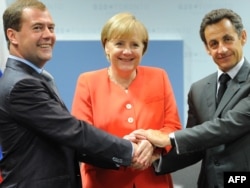 French President Nicolas Sarkozy (right), his Russian counterpart, Dmitry Medvedev (left), and German Chancellor Angela Merkel during a trilateral meeting at the G20 summit
In other matters, the G20 statement urged "some" emerging countries to let their currencies float more freely, a move that proponents say will make global trade fairer. This was clearly aimed at China, although that country was not named.
But the pressure Beijing has been subject to before and during the summit has paid off -- in a small way.
The People's Bank of China today set the strongest yuan exchange rate in years. The bank set the central parity rate -- the center point of the currency's allowed trading band -- at 6.7890 to the dollar.
That's a fraction of a percent higher than on June 25 and is the strongest level policymakers have set since China unpegged the currency in July 2005 and moved to a tightly managed floating exchange rate.
The move follows the recent announcement that China's central bank will let the yuan trade more freely against the dollar. But it has ruled out dramatic moves in the currency, and today's rise is very small considering Western experts reckon the yuan is undervalued by between 24 and 40 percent compared to other major currencies.
Still, it won praise from Canadian Prime Minister Stephen Harper.
"The declaration has an important commitment to greater exchange rate flexibility going forward," Harper said. "And as we know, the Chinese specifically have made that commitment to the world coming into and at this summit. And I'm confident that the Chinese will fulfill that commitment. And as we all know, when you make commitments like this on the world stage, you will be held accountable for them."
Another matter occupying Obama's attention at the G20 was North Korea, which South Korea accuses of sinking one of its warships with the loss of 46 lives.
Speaking to reporters on the sidelines of the summit, Obama said he held "blunt" talks with Chinese President Hu Jintao on the issue of North Korea. He urged Hu not to be willfully "blind" to Pyongyang's behavior.
"I think President Lee [of South Korea] has shown extraordinary restraint, given these circumstances, and it's absolutely critical that the international community rally behind him and send a clear message to North Korea that this kind of behavior is unacceptable," Obama said, "and that the international community will continue to step up pressure until [North Korea] makes a decision to follow a path that is consistent with international norms."
China is North Korea's main ally and provides vital economic and diplomatic support to that country.
written by Breffni O'Rourke, with agency reports