The last time G-20 leaders met, the immediate task was one of financial firefighting. At a summit in London in April, they struck a $1 trillion deal to combat the global economic crisis and agreed to do whatever it took to restore growth and save jobs.
Now, nearly six months on and with tentative signs of an economic recovery, the focus has changed.
This time, as the group prepares to meet on September 24-25 in the U.S. city of Pittsburgh, the spotlight is on what can be done to prevent a repeat of the worst crisis in decades.
U.S. President Barack Obama, in his latest weekly radio address, said modern financial crises "know no borders" and require everyone to act more responsibly.
"That is why, at next week's G-20 summit, we'll discuss some of the steps that are required to safeguard our global financial system and close gaps in regulation around the world -- gaps that permitted the kinds of reckless risk taking and irresponsibility that led to the crisis," Obama said.
One of those perceived "gaps" is the issue of bankers' bonuses.
Those handsome rewards, the argument goes, encouraged exactly the kind of risky behavior that brought banks to collapse and thus helped fuel the crisis.
Forging Ahead
Amid widespread public anger at "rewards for failure" -- big bonuses at firms rescued by the taxpayer -- some countries have already placed their own curbs.
Banks in the Netherlands, which isn't a full G-20 member but has been invited to Pittsburgh, adopted a code of conduct this month that limits bonuses.
Germany is bringing in new rules that mean bankers could be forced to pay back bonuses if they have taken risks that are too great.
And the U.S. administration in June appointed a lawyer, "pay tsar" Kenneth Feinberg, to review pay and bonuses for top executives at some of the biggest recipients of bailout money. The Federal Reserve also is reported to be planning, for the first time, to oversee banks' compensation policies to ensure they do not encourage excessive risk taking.
The European Union last week agreed that the G-20 should commit to "binding rules" on remunerations "backed up by the threat of sanctions." Bonuses could be clawed back if profits dropped.
"I'm pleased to say that, from our point of view, the bonus bubble burst tonight," Swedish Prime Minister Fredrik Reinfeldt trumpeted at that meeting.
Crucially, though, the EU did not explicitly recommend caps or ceilings on banker bonuses, as France had advocated.
Instead, it wants bonuses tied to banks' performances.
As the British Bankers' Association put it, banks can hardly hold more capital and at the same time lend it out.
That could make a G-20 compromise more likely, as the United States has been keen to avoid setting specific limits.
Stronger Banks
Washington, on the other hand, has been pushing another issue on the G-20 agenda -- strengthening banks so they are better able to withstand future shocks.
The United States wants banks to boost their capital reserves to ensure they have a big enough cushion to absorb any losses in the future.
G-20 finance ministers agreed on this point earlier this month, so a deal at Pittsburgh seems likely.
That's despite worries such a move could restrict banks' lending and dent their profits, particularly European banks that would likely have to raise a lot of new capital from the stock markets.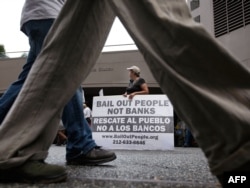 Protesters are already converging on Pittsburgh.
As the British Bankers' Association put it, banks can hardly hold more capital and at the same time lend it out.
Still, European leaders are likely to sign up to tighter capital rules because they want to see their banks safe, says Antony Clare of CASS Business School in London.
Clare says such an agreement will be phased in and provide for a more stable banking system.
"It will take some time to build up to the levels that regulators want to see," Clare told RFE/RL. "So they'll have to have this phased in over the next five years or so, so what we'll see is a gradual recapitalization of banks across the world over the next five years, which unfortunately will hold back economic growth as well, but it's a pause for breath that the global economy probably needs."
The G20 comprises Argentina, Australia, Brazil, Canada, China, France, Germany, India, Indonesia, Italy, Japan, South Korea, Mexico, Russia, Saudi Arabia, South Africa, Turkey, the United States, the U.K. and the European Union. It represents some 85 percent of the world economy.
World Economic Crisis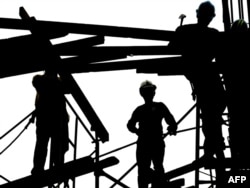 Multimedia coverage on the impact of the global financial crisis on markets and individuals across RFE/RL's broadcast region. More