It's over. That, at least, is the upbeat message about the recession coming from some of the world's major economies.
This week alone, the head of the Federal Reserve called the end of the U.S. recession. The European Commission said Europe's economy was probably growing again; and Russia's finance minister said he had "no doubt" that was the case in his country, too.
On September 15, Ben Bernanke, the chairman of U.S. Federal Reserve, said, "From a technical perspective the recession is very likely over."
And European Economic and Monetary Affairs Commissioner Joaquin Almunia said, "We can say that the trough is behind us."
For his part, Russian Finance Minister Aleksei Kudrin said: "The third quarter will see the full start of our exit from recession. We have no doubt about that."
And another of the optimists, Mervyn King, governor of the Bank of England, said, "There are now signs that growth has resumed in the third quarter."
Positive Data
But what about the data?
Figures out on September 15 showed U.S. retail sales in August were up 2.7 percent -- their biggest increase in 3 1/2 years.
That's seen as good news, as it indicates people are feeling confident enough to buy more "nonessential" things than before. And it comes after other indicators suggesting improvements, or at least stabilization, in manufacturing and housing.
In Europe, France and Germany emerged from recession in the second quarter of the year, and the European Commission now expects the EU to climb out of recession in the third quarter.
Japan managed that in the second quarter, and in Russia, Kudrin said the months of June and July were both positive for growth.
Green Sprouts
But haven't politicians and central bankers been spotting those elusive "green shoots" of recovery for months?
Yes, says Vanessa Rossi, a senior research fellow in international economics at Chatham House. But back then, she says, the comments were more a wish list than reflection of reality. This time appears to be different.
"What we're more definite about is that this second half of the year is seeing a genuine improvement and this is why they can be much more confident about the statements they're making," Rossi says.
"I thought we wouldn't be looking for green shoots in spring, we would be looking for the mushrooms in the autumn, and fortunately here they're coming. The sprouts are there."
Beware 'Headwinds'
However, along with the upbeat comments officials are also sounding a strong note of caution.
Bernanke said the U.S. recovery would be one of moderate growth, saying it would "feel like a very weak economy for some time."
There was a similar message from Europe's Almunia. And England's King said the U.K. economy faced "headwinds" that could slow recovery, including levels of debt and banks' willingness to lend.
In Russia there was an even starker reminder of how far off a full recovery might be. Just after Kudrin's optimistic comments, data showed industrial output slumping sharply again in August.
There are other reasons to remain sober. A weak recovery means economies likely won't grow quickly enough to create enough jobs to bring down unemployment.
And any improvement is from a very low base.
"Even if we have a little bit of growth we're only just coming back to the kind of levels of demand that were true a few months ago, we're not actually back to the pre-crisis levels of demand," Rossi says.
Hence the pledge earlier this month from G20 finance ministers to maintain financial support for their economies for the time being.
World Economic Crisis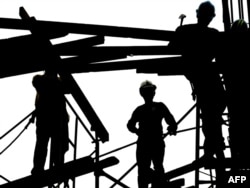 Multimedia coverage on the impact of the global financial crisis on markets and individuals across RFE/RL's broadcast region. More