(RFE/RL) -- The world's most powerful leaders are in Italy for a Group of Eight (G8) summit set to be dominated by the economic crisis, climate change, and Iran's postelection turmoil.
The summit is to begin with G8 leaders charting their latest moves in tackling the economic crisis.
This was a crisis, after all, that largely originated in the G8 -- made up of Britain, Canada, France, Germany, Italy, Japan, Russia, and the United States.
But this summit doesn't just involve the G8. Over three days the meetings will widen to include rapidly growing countries like India, China, and others such as Egypt, Turkey, and Brazil.
It's a sign the G8 members alone are no longer the dominant voices when it comes to tackling the main economic issues of the day.
A wider formal grouping that includes major developing countries -- the G20 -- has seen its profile rise amid the economic crisis, with a key meeting in London in April.
That shift of power was acknowledged this week by German Chancellor Angela Merkel, who said the G20 should be "the genuine forum" to address the world's pressing issues.
Finding Common Ground
Leaders at L'Aquila will try to find common ground on climate change, aid, and African development.
And, pressing international political issues like Iran's postelection turmoil.
G8 foreign ministers meeting in Trieste last month deplored the violence, but in terms that did not specifically criticize Iranian authorities for the deadly crackdown.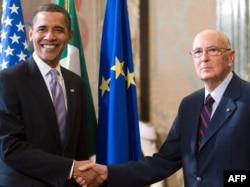 U.S. President Barack Obama (left) meets Italian President Giorgio Napolitano in Rome.
In L'Aquila for the summit, RFE/RL's Radio Farda correspondent Ahmad Rafat says any G8 statement on Iran will depend on what was discussed when U.S. President Barack Obama met Russian President Dmitry Medvedev in Moscow this week.
Rafat says that in L'Aquila, "everyone is waiting to see what was discussed in Moscow" because Russia is the only G8 member opposed to "any condemnation of Iran" and backs Iran.
Citing officials close to Italian Prime Minister Silvio Berlusconi, Rafat says that "the problem in Moscow was not resolved and Russia is against any hard condemnation of Iran" in L'Aquila.
Earthquake Aftermath
L'Aquila is still recovering from a devastating earthquake in April. Tens of thousands of people made homeless by the quake are still living in tents or hotels.
The summit leaders will forego high-class accommodation and be housed instead at the local financial police barracks.
It's a show of solidarity with the earthquake victims. And it's also in keeping, perhaps, with these austere times of recession.
Aftershocks continue to hit the area, but Prime Minister Berlusconi sought to quell any safety fears at a pre-summit press conference on July 7.
"We don't believe there is any danger because of any eventual earthquakes, the citadel of the Guardia di Finanza [financial police] will resist earthquakes," Berlusconi said.
But questions other than safety surround the summit.
One is how much it can achieve without Chinese President Hu Jintao, who
cut short his visit
because of ethnic unrest in northwestern China.
China is the world's biggest emitter of gases blamed for global warming and Hu's departure could complicate any summit agreement on climate change.
with news agency material
Iran Election Special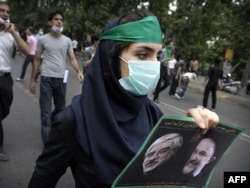 RFE/RL's Full Coverage
Following the disputed reelection of Iranian President Mahmud Ahmadinejad, supporters of Mir Hossein Musavi have taken to the streets to protest.
Click here
for news, blogs, and analysis of the presidential election and aftermath.