When U.S. President Barack Obama
dismissed
General Stanley McChrystal this week, he made it clear he was switching military leaders -- not strategies -- in Afghanistan.
But switching top generals in the middle of a war -- even at the best of times -- can't help but raise broader questions about how the war is going, even when the general is fired for reasons unrelated to his battlefield performance.

In Afghanistan, these are not the best of times. This month, NATO troops suffered their highest death toll since the war with the Taliban began in 2001. And, as the deaths mount, the planned U.S.-NATO operation to secure Kandahar this summer suddenly looks less certain to turn the tide than before.
Small wonder, then, that speculation is growing that -- despite Obama's assurances to stay the current course -- the introduction of a new top general in Afghanistan could reopen the broader debate over how to win the war.
"The New York Times" reports that administration insiders acknowledge there already have been preliminary discussions about whether to rethink Washington's approach to the war.
The newspaper quotes a senior official as saying privately that "if there continue to be problems, the debate will intensify between those who say we have to stick with it and those who say we lost the moment to go into Kandahar and have to go to Plan B."
"Plan B" is the softer military footprint in Afghanistan championed during Obama's recent review of Afghan strategy by key advisers like Vice President Joseph Biden. That approach, which includes accelerated efforts to reconcile mainstream Taliban with Kabul and a hard deadline for a U.S. troops withdrawal, eventually lost to the troop-surge and more open-ended pace of withdrawal that characterizes Washington's Afghan strategy today.
Assessing The Situation
Until this week, no general was personally more identified with the harder military footprint of the current strategy than General McChrystal. But even before he was dismissed, there were signs of rising doubts about the strategy's prospects for success, especially after the Marjah offensive. That mission began in February and involved thousands of NATO and U.S. troops being sent into the Taliban stronghold of Marjah. To date, the agricultural town in southern Helmand Province is far from stabilized.
"I think that General McChrystal's strategy has been under fire for some quite time," Jean MacKenzie, a long-time Kabul-based correspondent, currently working for the "Global Post," said. "It was a great mistake to hype the Marjah offensive as much as it was. But having advertised it so widely, the fact that Marjah did not go well, that they declared victory well in advance of any signs that progress was being made, was a very big error."
At the time of the Marjah operation, McChrystal described it as helping prepare for the much bigger military objective of securing Kandahar. But Marjah, where Taliban fighters already have begun leaking back, equally demonstrated how difficult it can be for NATO troops to hold an area once they clear it.
The immediate question now is how General David Petraeus will read the situation as he takes McChrystal's place.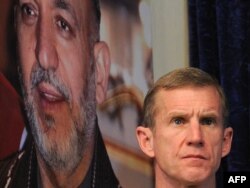 U.S. General Stanley McChrystal at a press conference in Lashkar Gah, Afghanistan in February 2010
MacKenzie says that Petraeus, who wrote the Army's field manual on counterinsurgency, has previously told Afghan officials that the Taliban must be dealt a heavy military blow.
"General Petraeus, when he met with Afghan officials after his visit to Marjah in March, made remarks to the effect that negotiations were not appropriate until the enemy had been so badly defeated or beaten into the ground militarily that they felt they had no options," MacKenzie says.
But now, with signs that the Kandahar operation is on temporary hold over the questions raised by Marjah, the window for dealing such a blow is getting smaller. The surge forces have already been in Afghanistan nearly a year and have just about 12 months more before Obama's July 2011 date for beginning to transfer troops out.
What's Plan B Again?
As pressure to think about Plan B now reportedly forms within the administration, it is already is highly visible within the broader U.S. policy community.
A June 24 editorial in "The Washington Post" by former U.S. Secretary of State Henry Kissinger calls for rethinking America's goal of trying to secure the country for an "Afghan government and national army whose writ is running across the entire country."
Kissinger says the more attainable outcome in Afghanistan is "a confederation of semi-autonomous, regions configured largely on the basis of ethnicity, dealing with each other by tacit or explicit understandings." He adds: "American counterinsurgency strategy -- no matter how creatively applied -- cannot alter this reality."
Almost all such rethinking of America's strategy in Afghanistan rests on a single pillar: putting a new emphasis on politics and diplomacy. And that entails new efforts to both reconcile with mainstream Taliban and to get regional support for the settlement -- whatever form it takes.
But if calls are likely to mount for reaching a negotiated settlement in Afghanistan, there is no sign yet that a power-sharing deal would be any easier to achieve than a military victories.
Pakistani Involvement
Part of the difficulty was highlighted this week by reports that one of the most powerful regional players in the Afghan crisis -- Pakistan -- is already looking ahead to a negotiated settlement to place one of its allies in Kabul.
"The New York Times" reports that group is the network of Sirajuddin Haqqani, an ally of Al-Qaeda who runs a major part of the insurgency in Afghanistan.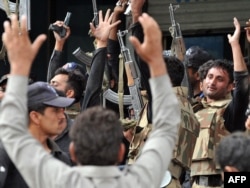 Pakistani police raise their guns in celebration after taking control of one of two mosques stormed by gunmen in Lahore in May.
Regional expert Ahmed Rashid says Pakistan wants a voice in Afghanistan's future and Haqqani's network is a loyal partner for Islamabad.
"I think one of the reasons the Pakistanis are keen to get Haqqani on board is because he is very close to the Inter-Services Intelligence and the Pakistani Army," Rashid says. "And he is probably more dependable and reliable for them in pursuing Pakistan's interests in any future deal than perhaps the mainstream Taliban would be."
"The New York Times" quotes a senior Pakistani official as saying privately that the Haqqani group is ready "to do a deal" over Al-Qaeda, its close ally. Pakistani officials also reportedly believe that co-opting the network into a power-sharing arrangement would avoid much more bloodshed than trying to keep it out.
But analyst Rashid is skeptical that hard-line militant groups like Haqqani's will cut their ties to other jihadists and become constructive partners in any settlement.
"We must remember that not once in all this time has Haqqani expressed any desire for a dialogue with Karzai or the Americans or to be part of the peace process. He has never said anything," Rashid says. "And I think that is very much part of the man, they come from a very hard-line group which has been deeply involved with Al-Qaeda and global jihad, they are very much part of the global jihad syndrome and I don't see him coming around in a hurry."
These kinds of challenges -- whom to negotiate with and whom to exclude -- ultimately make moving to any Plan B just as problem-fraught as is the current U.S. military strategy.
But with the clock running toward July 2011 as a start date for at least some troop withdrawals, it is very likely Washington again will have to carefully scrutinize both its current plans and the alternatives.
When Obama announced his change of military leadership for Afghanistan on June 23 in Washington, he was flanked by both the new commander Petraeus and Biden.
The symbolism of having one man who has advocated the military-first strategy on one side and another man who has advocated the military-light strategy on the other may be just that, symbolism. But the line-up couldn't better illustrate the uncertainties ahead.