The former Soviet republic of Georgia says it has arrested 13 people accused of spying for Russia, including four Russian citizens, two years after Russia invaded Georgia over its pro-Moscow breakaway region South Ossetia.
Deputy counterintelligence chief Otar Orjonikidze told reporters at a news conference today that many of the suspected spies are military pilots. He said they took part in a spy ring that passed information about Georgia's military to Russia's military intelligence service, the GRU.
"The operation's success was largely determined by the government's decision in 2006 to amnesty those who admitted cooperation with foreign secret services. This operation was planned after a number of individuals approached the Interior Ministry," Orjonikidze said.
Georgian television on November 5 aired video of what it said were confessions by some of the detainees, including a Georgian military officer who said he was blackmailed into spying for Moscow in 2004.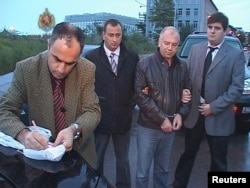 Police officers detain Piotr Davrishadze (second right), who is accused of spying for Russia, in Batumi.
Georgian officials said the spy ring was centered on the former separatist region Ajara on the Black Sea. Tbilisi retook control over the province in 2004.
'Deeply Angered'
The news is heightening tensions with Russia. In Moscow, the Foreign Ministry denied the accusations, calling the arrests a "provocation."
"Mikheil Saakashvili's regime suffers from chronic, anti-Russian spy mania," RIA Novosti news agency quoted a ministry official as saying.
It said the arrests were meant to harm Russia's reputation ahead of a NATO summit expected to be attended by Medvedev this month. RIA Novosti also quoted Deputy Foreign Minister Grigory Karasin as saying the matter was a "political farce."
One of the four detained Russians is a GRU officer, AFP reported. Two are employees of a port-inspection company and one is a local businessman.
The two countries broke off relations during Russia's invasion of Georgia in 2008, after Tbilisi attempted to retake its Russian-backed separatist region of South Ossetia. Moscow maintains thousands of troops in South Ossetia and another pro-Moscow breakaway region, Abkhazia, in violation of a French-brokered ceasefire.
Russia has recognized both separatist regions as independent, followed only by Nicaragua, Venezuela, and the South Pacific island Nauru.
Georgia has detained a number of alleged Russian spies in recent years, including four Russian military officers in 2006, a move that prompted Russia to temporarily cut transportation ties and impose a trade embargo on Georgian products.
The Georgian authorities say the operation to track down the suspected spies began four years ago and succeeded in planting a former Soviet military officer in Russia's GRU.
Earlier reports said Georgia had arrested 20 suspected spies last month.
Today's news conference coincided with the day Russia celebrates its military intelligence service.
Asked whether Georgia was prudent to publicize the arrests, David Darchiashvili, a member of the pro-Saakashvili majority in parliament, said it was important the government explained its actions to Georgians.
"If you don't do that, the public may not be aware of threats the country and every family and citizen are facing," Darchiashvili said. "They also won't know what the state is doing, what amount of money it's spending to eliminate those threats."
written by Gregory Feifer in Prague, based on material from RFE/RL's Georgian Service and agency reports