Georgian military vehicles move toward the base outside Tbilisi (Reuters video)
TBILISI (RFE/RL) -- A standoff has reportedly ended at a Georgian military base outside Tbilisi, where government officials claim a rogue Defense Ministry unit attempted to stage an uprising.
The alleged rebellion came one day before
NATO military exercises
are due to commence in Georgia -- a move that has been hotly opposed by Moscow.
Georgian officials have accused Moscow of financing the uprising.
The apparent rebellion at the Mukhrovani base ended without violence after most of the mutineers surrendered, Interior Ministry spokesman Shota Utiashvili said.
Interior Minister Vano Merabishvili told Reuters by telephone that the base commander, Mamuka Gorgishvili, had been arrested.
The reported resolution brought an end to a standoff that pitted dozens of tanks and hundreds of Defense Ministry troops against each other at the Mukhrovani base, located just 19 kilometers from the Georgian capital.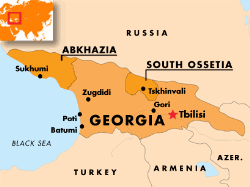 The troops stationed at the base were accused of staging a rebellion, apparently to protest the rule of President Mikheil Saakashvili.
Saakashvili traveled to Mukhrovani, reportedly to speak personally to the breakaway troops.
In a televised address made this morning before his departure, the Georgian leader sought to reassure citizens the country remained secure.
"Of course, we consider this a serious challenge," he said. "At the same time, however, I'd like to say that this is an isolated incident. It has not spread to other military units. These other military units are on alert. The situation is normal and under control. We have calm and order in the country, and that hasn't been threatened."
Russia's Interfax news agency said that Gorgishvili, the commander of the base, had made a statement criticizing Saakashvili's government, but pledged not to use force.
Funded By Russia
The resolution apparently came after officials from Georgia's Interior Ministry entered the base for negotiations.
Georgian soldiers assemble around the military base where the reported rebellion occurred.
The standoff came one day before Georgia is due to begin hosting NATO troops and equipment for monthlong military exercises.
Georgian officials have suggested the rebellion was funded by Russia, as a way of undermining the exercises, which Russia opposes.
In a tacit reference to Russia, Saakashvili said his country would resist any attempt at "provocations."
"I demand that our northern neighbor step back from any kind of provocation," Saakashvili said. "These kinds of provocations will not work in Georgia. The Georgian people will not be trapped by this."
The monthlong NATO exercises are seen as a gesture of solidarity for Georgia, which has long sought membership in the military alliance.
NATO spokesperson Carmen Romero told RFE/RL that the alliance is aware of the latest events but that the war games will go on.
"I cannot comment on what the Russians or Georgians are saying, but what I can tell you from the NATO side is that we are following the events from this morning in Georgia," Romero said.
"We have been in contact with the Georgian side and the NATO exercise -- well, we have to be precise because this is not a NATO exercise but an exercise of NATO and its partners, because this is a Partnership for Peace exercise -- is still on and will take place in Georgia as planned," Romero added.
Around 1,000 soldiers from more than a dozen NATO member states and partners will practice "crisis response" at a Georgian army base east of Tbilisi.
With news agency reports

* Correction: A reference in the 12th paragraph was corrected to say "officials from Georgia's Interior Ministry," instead of "Russia's Interior Ministry."