But the most recent swap was the first of its kind -- a brokered exchange of Ossetian fighters for Georgian civilians taken hostage in the early days of the war.
Many of the prisoners were elderly residents of Georgian villages located inside South Ossetia. One woman said she was forced to leave her home by Ossetian militias who entered her village ahead of the Russian troops.
"I am from Tamarasheni," she said. "They didn't treat us badly. Our village is close to Tskhinvali, and as soon as we were left without any protection, some [Ossetian] guys from there stormed in. They came into my house and set my bed on fire. Then they left. They didn't take anything, and I was able to put out the fire. But then they came again, and took me and others from the village. They herded us out and brought us to Tskhinvali. We spent 12 days there, in prison."
The international pressure group Human Rights Watch (HRW) has recorded numerous cases of attacks on Georgians by Ossetian militias inside South Ossetia.
HRW reported that numerous houses in the predominantly Georgian villages of Kekhvi, Kvemo Achabeti, Zemo Achabeti, and Tamarasheni had been burned to the ground, and that the few villagers who remained were either elderly or unwilling to leave their homes and property.
A woman from Kekhvi said she and others were ultimately put in detention by Ossetian police, but added that after the violent looting in her village, she was grateful for the protection.
"As long as the war was going on, we stayed there, to protect our houses from being burned down," she said. "We're not politicians or fighters, we're peasants -- ordinary working people. Look at our faces! So we thought we had nothing to fear. Some of those who came were very aggressive; some less so. But in the end, they burned down all our houses. And then we had to flee.
"After we fled, the Ossetian police protected us from being killed. Then we were put in prison. We spent nine days there and they treated us well. They gave us food and something to drink; they didn't humiliate us. They were protecting us from those hooligans."
Others were far less fortunate. One elderly man, Nikala Elbakidze, said he had suffered beatings and abuse at the hands of the Ossetian militia. "I'm 93 years old," he said. "They hit me three times in the neck with the handle of their gun, my son. I was covered in blood. And they broke my arm."

Ossetian Prisoners
The prisoner swap returned civilians like Elbakidze to relative safety in Georgia proper in exchange for a total of eight Ossetian fighters engaged in military operations in South Ossetia.
It is not clear if any of the Ossetians were involved in the militia raids on Georgian villages, although it is unlikely the Georgian side would have agreed to their release if they had been deemed responsible for militia violence.
Only five of the eight Ossetians were handed over on August 21; the remaining three are set to be handed over the next day. At least one of the remaining three is wounded and is currently receiving medical care in Georgia.
"I provided an incomplete list [of captured South Ossetians] to the Georgian authorities, and [the Georgians] promised they would also hand over those who are not on the list," said South Ossetia's ombudsman, David Sanakoyev.
"I was told that eight people would be handed over to me today. One of them is heavily wounded and he will be taken to a hospital in Tskhinvali by car."
The Georgian side negotiated for the release of a total of 154 people it has reported as missing since the start of the conflict. Sixty-three were released today; Major General Vyacheslav Borisov, Russia's frontline commander around Gori, told RFE/RL the remainder will be handed over on August 22.
"These are civilians who were taken hostage, and we appreciate this gesture," said Aleksandre Lomaia, the head of Georgia's National Security Council, who headed the Georgian side of the negotiations.
"We were asked for two things: first, to start the process of returning those who were captured by the Georgian side while engaged in military actions against us," he added. "Second, to pardon 14 people [Ossetians] who were given prison sentences before the start of the conflict. They gave us a list; we're working on them now. One of the eight soldiers is heavily wounded and is receiving care in a hospital in Georgia."
The civilians involved in the swap appeared exhausted and emaciated; several appeared to have been beaten. It is unclear whether any of them were among the Georgian prisoners who were forced into labor during their captivity. Rights groups and news media reported that teams of ethnic Georgians illegally held in Tskhinvali were being used to clean the streets of the city of the debris left from the fighting.
It is also uncertain what will happen to the hostages next. Most, like Alyosha Chulukhadze from the village of Achabeti, said they have nothing left to return to.
"They herded us out from our village. They said, 'We have to take you.' They took us to Tskhinvali, and brought us to the police station," she said. "Nothing is left of our village -- it was burned to the ground. And not only Achabeti, but Tamarasheni, Kurta, Kekhvi -- they've all been wiped out."
Crisis In Georgia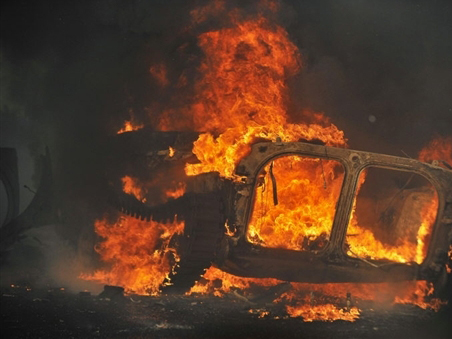 For RFE/RL's full coverage of the conflict that began in Georgia's breakway region of South Ossetia,
click here
.