(WATCH: Nino Machaidze singing "O mio babbino caro")

The 26-year-old Georgian soprano Nino Machaidze shot to fame during the 2008 Salzburg Opera Festival, just one year after her debut at Milan's La Scala opera house. Ahead of a gala concert in Prague on January 12, Machaidze spoke to Manana Kuzma of RFE/RL's Georgian Service about her fast-moving career, the Russia-Georgia war, and her reputation as the Angelina Jolie of the opera world.

RFE/RL: Your face is on posters all over Prague. How does that make you feel?

Nino Machaidze: I'm so happy. This is my first chance to sing in Prague. It's really a beautiful city, probably one of the most beautiful cities in the world. And it's true, from the minute I got here, I saw my poster on every street corner. It's a very pleasant feeling -- a sign that people were looking forward to this concert. This gives me extra energy, and motivates me to sing even better. So I'm feeling very good, and I can't wait until the concert.

RFE/RL: You began the year by singing at a New Year's Eve gala in Batumi, where Spanish tenor Jose Carreras was also a featured guest. What have you been working on since then?

Machaidze: From Batumi I went to Valencia, where I began rehearsals for [Donizetti's] "Lucia di Lammermoor." The role of Lucia is very difficult, so after this concert in Prague I'll go back and continue to rehearse. The premiere is on January 23. So the year started with a bang, and we keep moving forward.

RFE/RL: You currently make your home in Italy -- you studied, and now work, at La Scala in Milan. You've also appeared on a number of international stages. But you were born and raised in Georgia, and your musical career began there. How much of your opera training was in Georgia?

Machaidze: I've been singing for as long as I can remember. I was eight when I began singing arias. In Georgia, children start learning to sing at a very early age, which I think is very good. In the West, it usually happens later. So I was eight when I started to learn singing with my teacher in Tbilisi, at the musical school which is part of the Tbilisi State Conservatory.

At the age of 17, I entered the conservatory. So my musical upbringing was really in Georgia, and all my technique is Georgian. Even now, as I travel around the world, the singing method and voice training remain Georgian. So everything for me is connected to Georgia. When I was 21, I tried out for La Scala, and was accepted, so I've been in Milan since then.

RFE/RL: You've already performed a lot of roles at La Scala, but it was your performance in Gounod's "Romeo et Juliette" at the prestigious Salzburg opera festival in 2008 that made you a true international star. How did you get the part?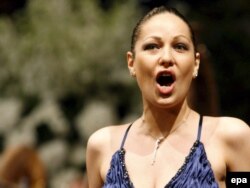 Nino Machaidze performing during the Salzburg Festival in 2008
Machaidze:
I was at La Scala, singing in [Puccini's] "Gianni Schicchi," when a person came who was in charge of selecting singers for Salzburg. And after one of my evening performances, he decided that I should play the role of Juliette. I didn't know anything about the decision. It was completely unexpected for me, because I didn't know anything about the role, and I didn't even speak French. I had to learn everything in one month. And so it began -- I had to hire a French teacher. Now I speak French, and everything about the opera is familiar to me now.

RFE/RL: The Salzburg festival took place in August 2008, at the same time as the Russia-Georgia war. Was it difficult for you to perform? Machaidze:
Every time I think back on that period, I realize how tough it was. I was there in Salzburg. I couldn't leave, because I had constant performances. We had seven performances during the festival, so I couldn't go anywhere.
But whenever I watched the news or talked to my family, I couldn't stop crying. I was crying, crying, crying, crying. And then I'd have to tell myself, "You have to calm down, because tomorrow you've got another performance. You're not allowed to lose control." If it had been up to me, I wouldn't have hesitated for a minute -- I would have gone straight to Georgia to be with my family. And that made it even more difficult. But unfortunately, there was no way out for me. It was a very difficult moment in my life.
RFE/RL: Some people have referred to you as the Angelina Jolie of the opera world. Others say you are a new Anna Netrebko. How do you feel about these comparisons?

Machaidze:
"The Angelina Jolie of the opera world" -- this always amuses me. And actually I take it as a compliment, because I think that Angelina Jolie is a very beautiful woman. So I just say thank you! Why not? But as for a "new Anna Netrebko" -- I always say that I am not a new Anna Netrebko. She is a great singer, and I admire Anna and her voice. But I am Nino Machaidze. And I keep repeating it: I am Nino Machaidze.