(RFE/RL) – A court in Dresden has sentenced a German self-avowed racist who killed an Egyptian woman in Dresden in July to life in prison.
On July 31, Russian-born Alex Wiens killed Egyptian pharmacist Marwa el-Sherbini in a Dresden courtroom, though not the one where he was sentenced on November 11. The slaying, before a courtroom filled with people, was sudden and brutal.
Wiens stabbed Sherbini 16 times as they both appeared for an appeal hearing over an altercation they had a year earlier in a Dresden playground.
The two had met by chance in the playground when Sherbini asked Wiens to vacate a swing so that her toddler could use it. Wiens responded with a torrent of verbal abuse, calling Sherbini, who was wearing a head scarf at the time, an Islamist, a terrorist, and a whore.
Sherbini subsequently sued him for defamation, and Wiens was fined 780 euros ($1,170). But Wiens took what prosecutors say was premeditated revenge when the two met again at Wiens' appeals hearing.
Wiens smuggled an 18-centimeter-long kitchen knife into the courtroom in his backpack and fatally attacked Sherbini, three months' pregnant with her second child.
Sherbini's husband, Elwy Okaz, an Egyptian geneticist doing research in Germany, was stabbed multiple times as he tried to protect his wife. He also was shot in the leg by a security guard who apparently mistook him for his wife's assailant. It is unclear whether he will ever walk again unaided.
Evidence Of Mental Illness
There had been fears that a decision in the case could have been delayed by last-minute evidence that Wiens had a history of schizophrenia before he moved to Germany in 2003.
The suggestion of schizophrenia came in a faxed statement to the Dresden court earlier this week from the Russian Prosecutor-General's Office.
The statement said that Wiens, at the time known as Aleksandr Igorevich Nelsin, had been exempted from compulsory military service in Russia and was diagnosed in 2000 with "undifferentiated schizophrenia" occurring in worsening episodes.
Up until then, Wiens had been adjudged by German psychiatrists as sane and competent to stand trial.
'Veil Martyr'
Making his closing arguments on November 9, prosecutor Frank Heinrich called Okaz and Sherbini, who came to Germany in 2004, the kind of immigrants that Germany needs. He said that was in sharp contrast to people like Wiens.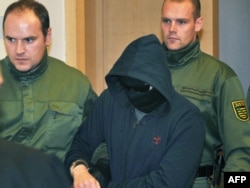 Defendant Alex Wiens is escorted into the courtroom.
"What we definitely don't need are people like the accused, who came here with crude ideas and think they are somehow special because they hold German citizenship."
Wiens was born in Perm and lived there and in Kazakhstan with his mother before both moved to Germany. In statements to the court, Wiens has said that "it is true that I am hostile to foreigners but that was not the motive" for the attack.
Wiens has appeared in court throughout his murder trial wearing a ski mask and dark glasses to completely cover his face. Prosecutors say he has expressed no contrition to the court or the victim's family.
The case has been closely watched in Egypt and the Muslim world, where it is widely cited as an example of German and European intolerance of Islam. The Egyptian press has dubbed Sherbini the "veil martyr" in reference to her wearing a head scarf.
Immediately after the killing, there were protests before German embassies, particularly in Egypt and Iran. Demonstrators said they were incensed by the muted reaction of German officials and media to the case. Iran's ultraconservative "Kayhan" newspaper called on Muslims to carry out a "revolutionary death penalty" against Wiens.
A week after the killing, German Chancellor Angela Merkel expressed her condolences to Egyptian President Hosni Mubarak but did not comment publicly.
Because of the death threats, security at the Wiens trial has been unusually tight. Some 200 police are guarding the Dresden courtroom and the defendant sits behind bullet-proof glass.
with agency reports