A teenager who uses the stage name Lena has become the second-ever German winner of the Eurovision Song Contest.
Lena Mayer-Landrut was an unknown before she won Germany's qualifying competition. On May 29, she delighted the crowd in the Norwegian capital, Oslo, with her youthful and energetic personality,
performing the song "Satellite."
Still waiting to see the results of her high-school examinations, Lena bubbled with spontaneity and charm, asking the hosts, "Do I have to sing now?" when she was awarded the top spot after votes from 39 countries were counted. At a news conference following the final, Lena said it took her a long time to realize she had won.
"It was really...so many people in the green room and suddenly they all say, 'My God, my God, we've won. Oh God, Lena, you've won!' And I'm like, 'No way. But there are still countries, there are still points [to be allocated]," she said. "I didn't understand and nobody understood it and it was completely surreal because we didn't count on [winning], and it was so incredibly, damned different."
Glitz And Kitsch
Eurovision, which drew 124 million viewers last year, displays a wide variety of musical styles in original songs, mostly from relatively unknown artists.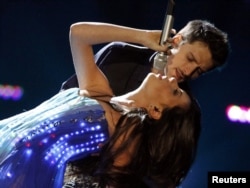 Azerbaijan's Safura performs her song "Drip Drop."
In the self-proclaimed European song championships, flag-draped fans and outrageous outfits are par for the course and contestants mix glitz and kitsch, ballads, rock 'n' roll and disco to lure the highest number of votes.
But unlike past years when polished super-productions have taken top honors, Lena's fresh and untrained style appealed most.
She performed in a tight, short black dress, singing a catchy modern love song that included the lyrics: "Love, my aim is straight for you, Cupid's arrow is just for you, I even painted my toenails for you, I did it just the other day."
Asked about her performance, Lena said it had been easy song to perform and that the experience had been "unbelievable."
"It's not that difficult to perform the song the way I just did it because it was such an unbelievable experience to be on the big stage. So many feelings and emotions on the stage -- so you can't really be that wound up," she said. "It was easy."
'Amazing, Incredible'
Lena -- a native of Hannover, Germany -- says she did not tell her friends when she entered the preliminary competition in Germany because she didn't want to be teased if she was eliminated straight away. Before then, she had trained only as a dancer, shot homemade videos, and had a few attempts at singing with a band in her school.
But on May 29, the 18,000 people packed into the Oslo Telenor Arena were not the only people that Lena delighted. Among the millions of television viewers across Europe, hundreds of supporters turned out to watch the program at her favorite club in Hannover -- the Faust. Among them was a new fan, Melanie Strueber.
"Lena was a one-off -- amazing, world class, incredible," Strueber said. "The way she rocked the place -- amazing. I would never have thought it. I mean I thought as long as we are not last, it's OK. But first place! And then Hannover. Well, Hannover just rocks!"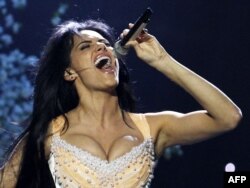 Armenia's Eva Rivas performs "Apricot Stone."
Second place in this year's competition went to an act called "maNga" from Turkey with a song called "We Could Be The Same." Third place was won by Paula Selling and Ovi from Romania with a song called "Playing With Fire."
Safura, from Azerbaijan, was in fifth place with a song called "Drip Drop." Armenia's Eva Rivas placed seventh with "Apricot Stone."
Georgia's Sofia Nizharadze placed ninth with the song "Shine." Ukraine's Alyosha took 10th place with a song called "Sweet People" and Russia's entry,
Peter Nalitch and Friends
, placed 11th with "Lost and Forgotten."
Serbia's Milan Stankovic was 13th with the song "Ovo Je Balkan." Vukasin Brajic from Bosnia and Herzegovina finished 17th with the song "Thunder and Lightning."
Moldova's "Sunstroke Project and Olia Tira" came in 22nd place with "Run Away," while an act from Belarus called Three Plus Two finished 24th with the song "Butterflies."
The 2010 Eurovision Song Contest was one of the most expensive, with Norwegian broadcaster NRK spending some $33 million on the production -- having to sell its rights to the soccer World Cup in order to finance the event.
As winner, Germany will host next year's next Eurovision contest.

written by Ron Synovitz, with agency reports