For years, migrant workers from impoverished rural areas of China have flocked to factories in the country's eastern coastal areas for work.
But the global financial crisis has slowed the demand for products made in those factories. Tens of thousands have closed already this year, and the number is expected to rise by year-end -- leaving millions of Chinese migrants unemployed.
Already, a mass exodus is under way within China as millions of jobless migrants return from the cities to their impoverished villages.
In the Persian Gulf region, major construction projects financed by a seemingly endless stream of oil revenue have brought millions of migrant workers to the region -- mostly from Asian countries such as India, Pakistan, Bangladesh, Sri Lanka, and the Philippines.
But now, the fall in the price of oil that has accompanied the global recession is causing a sharp downturn in development within the six Gulf Cooperation Council states -- Saudi Arabia, the United Arab Emirates, Kuwait, Bahrain, Qatar, and Oman.
Analysts say neither the developers, the investors, nor the migrant workers are prepared for what is next. They predict that as many as half of the region's 13 million foreign workers could lose their jobs in the months ahead.
The migrants will either have to stay in the Gulf countries as illegal immigrants or go back to their own countries to seek employment.
European countries also are seeing similar problems as a result of the financial crisis.
Millions of foreign workers flocked to Spain for jobs from 1994 to 2007 when that country saw continuous economic growth. Most of the 4.5 million migrant workers now in Spain are from Latin America, North Africa, or Eastern Europe.
Many had jobs in construction -- until this year, when the global economic crisis hit Spain's construction sector hard. In Spain, again, migrant workers have been among the first to lose their jobs.
Complicating their situation further, the Spanish government in September announced a plan to fight soaring unemployment by limiting the number of foreign workers. Government ministers argue that they have no choice but to respond to the needs of the labor market -- and protect the jobs of Spanish citizens.
Rise In Social Tensions
UN Secretary-General Ban Ki-moon recently suggested that the financial crisis could uproot entire communities of foreign workers around the world and cause major changes to the dynamics of international migration.
"It would be naive to think the current [economic] crisis will have no effect on the movement of people across the borders and on how our publics perceive migration and the migrants in their midst," Ban said at a global forum in October.
"Already migration flows are reversing," he added. "In several instances, we are seeing a net outflow from countries facing economic crisis, especially from badly affected sectors such as construction and tourism, where many migrants are employed."
Ban said it is important that governments protect the rights of foreign workers in order to prevent mass migrations of angry, unemployed, and impoverished workers.
But there are signs that the opposite is taking place in some countries.
In Russia, Prime Minister Vladimir Putin this month signed a decree aimed at reducing quotas on the number of foreigners working in the country. Putin says the move will ease the impact of the financial crisis.
But at the same time, a youth branch of Putin's Unified Russia party, calling itself the Young Guard, has been engaged in a campaign to reclaim jobs for Russians that are occupied by foreign migrant workers.
Andrei Tatarinov, the deputy head of Young Guard's Moscow office, told RFE/RL's Russian Service said the campaign aims to rid the country of "every other" migrant worker.
"Considering the difficult financial situation in our country, we believe that we must think about our native workers -- take care of them, their salaries and their jobs," Tatarinov said. "We don't think it's right to feed foreign economies and send money abroad by paying migrant workers. We are ready to help the Federal Migration Service by jointly patrolling construction sites that employ many immigrants."
Promoting Xenophobia
The International Organization for Migration is an intergovernmental organization based in Geneva, Switzerland, that works worldwide to make migration beneficial for both migrant workers and the countries involved.
IOM spokesman Jean-Phillippe Chauzy says that policies like those passed in Russia this month are a cause of concern for his organization as it marks International Migrants Day on December 18.
"What the International Organization for Migration is saying on International Migrants Day is that countries worldwide should recognize the positive contributions that migrants can and do make to economic growth -- even at a time of global financial crisis," Chauzy says.
"And therefore, those countries should resist the temptation to close their doors to migrants in times of economic slowdown because there is a structural need for migrants," he adds.
Chauzy explains that government policies that close the doors to legal migration may inadvertently be enriching criminal organizations, because "policies that would tend to block migration flows will encourage more people to go through irregular routes -- very often putting their lives and their savings in the hands of smuggling and trafficking networks that operate worldwide."
Perhaps most importantly, Chauzy says protectionist policies can contribute to an environment that breeds xenophobia, "because the impact of the crisis is very strong and people are competing for jobs. It would be very short-sighted of governments to start finger-pointing at migrants as being responsible for the current state of economic affairs."
World Economic Crisis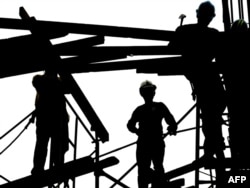 Multimedia coverage on the impact of the global financial crisis on markets and individuals across RFE/RL's broadcast region. More