The global recession has taken a toll on many sectors of the economy, but one in particular is proving resilient -- information technology.
More and more of us are getting mobile phones or going online -- and one of the fastest growing areas is Eastern Europe and the countries of the former Soviet Union.
A new report by the UN's trade body, UNCTAD, says there were 4 billion mobile-phone subscriptions at the end of 2008.
Growth that year slowed a little compared with 2007, but remained close to 20 percent. And penetration is rising most in developing and transition economies.
"Between the years 2003 and 2008 many of the top 20 performers in terms of increasing the level of mobile penetration are found in transition economies, as we call them, the former Soviet republics, and also many of the new EU members figure among the biggest or most dynamic economies in this context," says Torbjorn Fredriksson of UNCTAD, who coordinated the report.
"This very much reflects the fact that a mobile telephone today is seen no longer as a luxury item but really as a necessity, people don't want to give up their subscriptions once they have them," he adds.
Pent-Up Demand
The region's star performer was Montenegro. Last year it had more than 230 mobile-phone subscriptions for every 100 inhabitants -- a rise of 160 percent in just five years.
In Russia and Ukraine, mobile penetration more than doubled in the same period (132 subscriptions per 100 inhabitants for Russia; 120 for Ukraine).
Armenia outperformed its Caucasus neighbors with growth of 83 percent, compared with 70 percent for Georgia and 55 percent for Azerbaijan.
And at the other end of the scale, Turkmenistan was the regional laggard with 21 percent growth.
Fredriksson says some of the growth in the former Yugoslavia reflects the freeing of pent-up demand, when a lot of money went into developing the telecom sector after the wars of the 1990s.
That also explains the rapid increase in the number of Internet users in those countries.
Among the world's top 20 performers were Bosnia-Herzegovina, where Internet penetration rose 21 percent from 2003-08, as well as Macedonia, Moldova, and Iran, where it rose by around one quarter.
The report says there were 1.4 billion Internet users around the world by the end of last year, up around 15 percent on the previous year.
Most of them are now in the developing world.
China has the largest share, at nearly 300 million, followed by the United States (with some 190 million).
But the report warns of a widening divide in access to broadband Internet.
Rich countries are forging ahead, with one in three people having access to broadband in places like Scandinavia. But others are lagging behind, meaning they can't take full advantage of Internet applications such as e-commerce or distance learning.
"If you look at the transition economies, the highest level is seen in Croatia with 11 percent, in Macedonia with 8 percent, and Russia with 5 percent, so you can see there is still big potential for expanding these penetration levels," Fredriksson says.
Fredriksson says transition economies are in a relatively good position to do that, thanks to a largely well-educated population and the proximity of major developed markets, leading him to expect "rapid growth" in broadband access in the next few years.
World Economic Crisis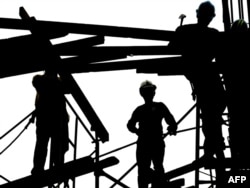 Multimedia coverage on the impact of the global financial crisis on markets and individuals across RFE/RL's broadcast region. More